A Boston Butt is not really the rear end of a hog, as the name implies. This cut is the upper shoulder portion. It is sometimes labeled as a pork shoulder. But, make sure that what you are buying is actually the butt and not the lower portion of the front leg. That cut should be labeled as a picnic roast. The term "butt" refers to the barrels that were used to store the pork shoulder in for transporting purposes before we had sophisticated refrigeration. Why Boston? Boston Butt refers to the way the shoulder was cut and stored in early New England, commonly in Boston where the whole hogs were brought into port and butchered.
This is a tasty cut of the pig, especially when slow cooked in a smoker. This cut is what is generally used to make pulled pork for sandwiches. The size of the shoulder or butt is what makes it a perfect choice for smoking in a Masterbuilt Digital Electric Smoker. This large piece of meat is a bit difficult to slow braise in a Dutch oven indoors without having to cut it into smaller portions and removing the blade. That said, it certainly can be slow cooked in other ways than smoking. In my opinion, there is no match for the flavor and texture of a smoked butt.
You have the option of buying the butt with either the shoulder blade bone-in or boneless. Bone-in will impart a little more flavor as it cooks. However, it does take a bit longer than a boneless roast. For this recipe, we will use a bone-in butt with much of the fat cap removed. You can have your butcher trim the fat cap down to approximately 1/4 inch of fat still left on the roast for extra flavor and moisture.
Look for around an 8 to 10 pound roast. You will want to start the recipe the day before you smoke the meat by marinating it in mustard, sugar, salt, spices, and herbs. The sugar and salt will act almost as a dry brine. This combination will pull some of the excess moisture out. This is good so that the meat really smokes and doesn't steam. The day of smoking will be an 8 to 10 hour project that really doesn't require that much effort on your part. You will just need to tend to the smoker and/or roast about every 60 minutes. Plan on doing some yard work, reading a good book, watching the game, making side dishes, or chilling in your hot tub while the smoker does most of the hard work for you. It is worth a day spent at home for the results achieved.
Smoked Boston Butt Recipe for Pulled Pork
This recipe will serve approximately 10 to 16 people, depending on appetites. Preparation time is approximately 20 minutes for a bone-in roast. Cook time is approximately 8 to 10 hours. This recipe yields sweeter smoked pork, but the apple cider vinegar spritz will help to mellow that a bit.
Equipment needed
Masterbuilt Digital Electric smoker
Paper towels
Cutting board
Sharp chef's knife
Disposable foil roasting pan large enough to hold the meat (or 2)
Plastic wrap or aluminum foil
Meat thermometer
Hickory or apple wood chips
A spray bottle
2 large forks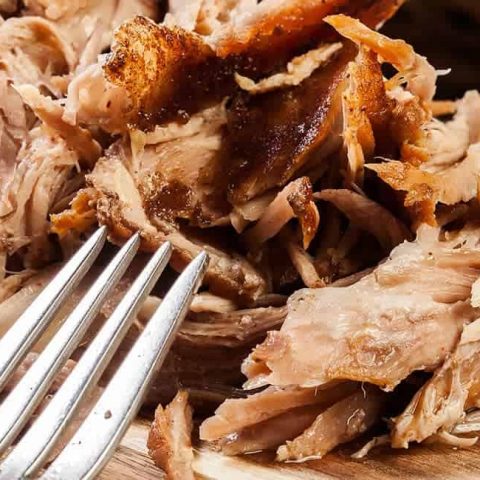 Smoked Boston Butt for Pulled Pork
Learn how to smoke perfect boston butt for pulled pork in your Masterbuilt smoker.
Ingredients
8 pound bone-in Boston butt roast
5 TBS jarred yellow mustard
1/3 cup packed brown sugar
3 TBS sea salt
2 TBS paprika
1 TBS garlic powder
1 TBS onion powder
2 tsps cracked black pepper
1/2 tsp cayenne pepper
Unfiltered apple cider vinegar (ACV) in a spray bottle
Water for drip pan
Instructions
Place the roast on a clean cutting board. If your roast has skin and/or a fat cap, trim most of the fat off, leaving a 1/4 inch layer for extra flavor. After trimming the fat, rinse the roast under cold running water and pat completely dry with plenty of paper towels. Place the roast inside the disposable pan. Side note: When working with raw pork, be sure to meticulously clean any surface it comes in contact with, including your hands, the sink, and the cutting board. Toss the paper towels out immediately.
Combine the dry rub ingredients in a bowl.
Time to get your hands dirty (or wear disposable gloves). Rub the entire roast well with the mustard to coat. Generously apply the dry rub, pressing it into the mustard, to completely cover the butt. The mustard will help to hold the dry rub in place.
Cover the pan tightly with plastic wrap or aluminum foil. Place the pan in the refrigerator for 8 to 12 hours, basically overnight. Anymore than 24 hours is too long, as it will draw too much moisture out of the meat.
An hour before you fire up the smoker, remove the roast from the refrigerator so that it can come to almost room temperature. After it has rested for an hour, remove the wrap and pour off any of the accumulated liquid in the bottom of the pan.
Add the hickory or apple wood chips to the smoker drawer. Fill the water pan half way. Preheat the smoker to 225 degrees F.
Place the roast on the upper rack of the smoker. Thoroughly wash out the disposable pan and place it on the rack below the roast to catch any drippings. Alternatively, use a clean disposable pan, if you have one.If your smoker has a meat thermometer attached, insert it into the roast at one end.
Smoke for approximately 8 hours.* Because of the sugar the meat will form a dark caramelized crust. This is delicious crunchy stuff. Replenish the wood chips and liquid approximately every 60 minutes. If you don't see any smoke coming from the vent, it is time to replenish. At 2 hour intervals spray some ACV on the roast just to moisten it. It is okay to turn the roast over once, but not necessary.
At 8 hours, check the internal temperature of the meat with a thermometer. It should read 190 degrees F or even a little higher. If it isn't quite up to temperature remove the pan of drippings and place the butt inside the pan. Cover this with new aluminum foil and place the roast back in the smoker until it reaches the desired temperature, approximately 1 hour more. The pan and foil will help the meat to retain heat and cook thoroughly.
Allow the fully cooked roast to rest for at least 20 to 30 minutes until cool enough to handle and to be able to remove the bone.
While the pork is resting, make a BBQ sauce and cut some soft rolls to assemble pulled pork sandwiches.
After the pork has cooled enough to touch, place it on a clean cutting board and pull the roast using 2 forks to shred the meat into strands, as shown in this video by eHow.
Place the pulled pork (and juices if desired) in a large serving bowl or platter with some tongs for everyone to help themselves. You might want to remove some of the fat from the juices using a fat separator before adding to the pork.
Notes
*If using a Masterbuilt charcoal smoker, rotate the meat every hour for more even cooking.
Nutrition Information:
Yield:

10
Serving Size:

1
Amount Per Serving:
Calories:

1026
Total Fat:

69g
Saturated Fat:

25g
Trans Fat:

0g
Unsaturated Fat:

37g
Cholesterol:

312mg
Sodium:

2237mg
Carbohydrates:

12g
Fiber:

1g
Sugar:

9g
Protein:

85g
Easy Barbeque Sauce for Pulled Pork Sandwiches Recipe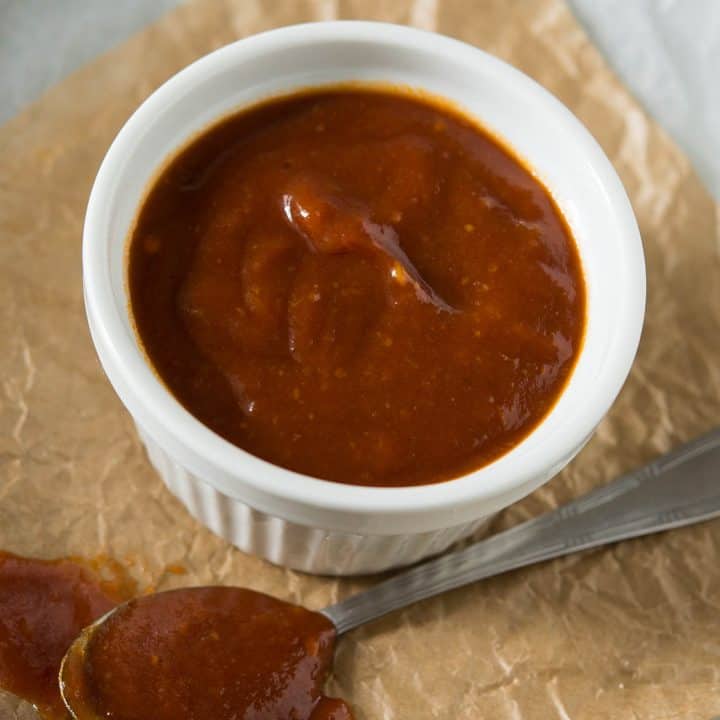 Easy Barbecue Sauce for Pulled Pork Sandwiches
Delicious and easy barbeque sauce to use with pulld pork.
Ingredients
1 cup raw apple cider vinegar
1 cup good quality ketchup
4 TBS yellow mustard
4 TBS brown sugar
2 tsps sea salt
2 tsps cracked black pepper
Instructions
In a 1 or 2 quart saucepan, combine all ingredients and bring to a low simmer.
Cook and stir until the sugar has melted and the sauce has thickened but is still runny.
Remove from the heat and serve immediately with your pulled pork.
Notes
This will store well in the refrigerator if there is any left over.
Nutrition Information:
Yield:

10
Serving Size:

1
Amount Per Serving:
Calories:

51
Total Fat:

0g
Saturated Fat:

0g
Trans Fat:

0g
Unsaturated Fat:

0g
Cholesterol:

0mg
Sodium:

753mg
Carbohydrates:

12g
Fiber:

0g
Sugar:

10g
Protein:

1g
Ideas for Sides to Accompany your Smoked Boston Butt
Crunchy coleslaw is probably the most popular accompaniment to a pulled pork sandwich. Another popular side is picked vegetables. My nephew once served a giant pulled pork for a holiday dinner with macaroni and cheese muffins that were to die for.