Looking for easy and delicious recipes to prepare on your Masterbuilt Smoker? You've come to the right place. There's several different kinds of Masterbuilt smokers available. Charcoal, propane, and both analog and digital electric. All our recipes include directions at least for the Masterbuilt electric smoker which is by far the most popular but we'll try to include directions for other smokers as well.
You can create delicious meals with your smoker using almost any meat. Pork, poultry, beef, seafood, lamb and game. It's all good. The meal ideas are endless.
We have recipes for all the best and most popular smoker dishes and much more.
Take a look through our growing collection of smoker recipes.
If you are still figuring out what smoker to buy, take a look at our Masterbuilt Smoker Buyers Guide.
Featured Recipes: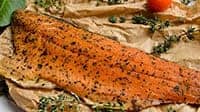 Cured and Smoked Salmon Recipe
Salmon is very good when cured or smoked. But we'll be combining the two methods to make the best salmon you've ever tasted!
---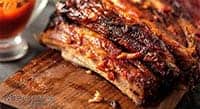 Savory and Sweet Smoked Ribs Recipe
There is a whole world of rib rivalry in the US. I'll share a recipe for my favorite ribs, which steals from all of the best methods.
---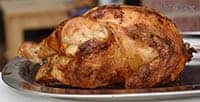 Whole Smoked Turkey With Herbs Recipe
Smoking is a delicious way to prepare a whole turkey. All you need is the turkey, seasonings, time, and patience. Learn how to prepare a perfect turkey!
---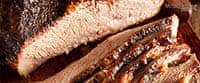 Dry Rubbed Smoked Brisket Recipe
Brisket is one of the best cuts of beef for smoking. Follow our step-by-step instructions on how to smoke perfect brisket.
---
Masterbuilt Smoker Pork Loin Recipe
How to Grill Vegetables On Your Masterbuilt Smoker
Masterbuilt Smoker Jerky Recipes
Delicious Smoker Christmas Recipes
Dry Rubbed and Smoked Tri-Tip Roast
Smoked Pulled Pork Sandwiches with BBQ Sauce
Smoked Meatloaf with Tangy Glaze