Salmon is a fish that I do consume regularly. I especially like it cold cured or smoked. Gravlox is a method of preserving salmon by curing it in dry brine without the use of smoke. It takes about 3 days to mature. Smoked salmon is a slow cooking method that results in a similar preservation technique but with a distinctive flavor. Both are delicious in different ways.
I like to put a slight spin on smoked salmon by combining the two methods. After cold curing, the salmon can be smoked using a charcoal, propane, or electric smoker. Because fish is delicate, we will use the Masterbuilt Digital Electric Smoker for this recipe for even temperature control.
Some Information on Salmon
Salmon is a cold water fish. It is generally caught in the north Atlantic and Pacific Oceans. While it is considered a saltwater species, salmon will often spawn in fresh water rivers and streams. The flesh is firm, fatty, and super nutritious. I am referring to wild salmon. The jury is still out on the health benefits of farm raised salmon due to the confined conditions and the type of feed it is raised on.
A single 4 ounce serving of wild salmon is approximately 210 calories. In addition to salmon being a terrific source of essential amino acids, here is a list of some of the many nutrients in a serving of wild salmon.
Fat (mostly unsaturated) = 12.3 grams
Carbohydrates = 0 grams
Protein = 22.5 grams
Vitamin B-12 = 236% RDA (Recommended Daily Amount)
Vitamin D = 127% RDA
Selenium = 78% RDA
Vitamin B3 = 56% RDA
Omega 3 Fatty Acids = 55% RDA
Phosphorus = 52% RDA
Wild Alaskan salmon is reported to be the least contaminated of the species. Some wild salmon begins life in a hatchery and is then released into the wild. When shopping for salmon make sure the flesh is bright and moist, not slimy, and there is no fishy smell. For smoking, ask your fish monger to remove the skin and take out all of the pin bones. Store the fish in a very cold refrigerator until ready to use.
Cured and Smoked Salmon Recipe
This recipe is a 2 step process that is worth the effort for the end result in both flavor and firmness of the flesh. The dry brine curing process draws a lot of moisture out of the fish. This recipe is awesome for serving on toasted baguette slices, which I will spell out as well.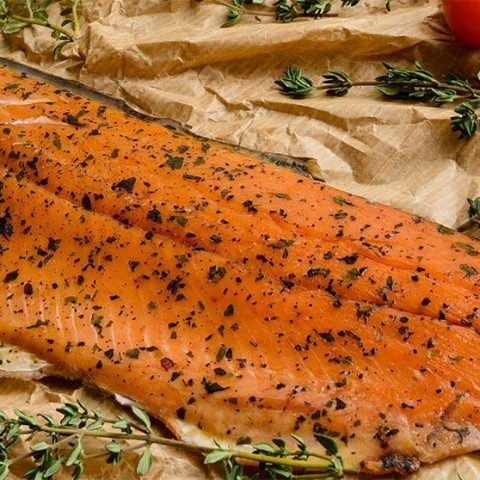 Cured and Smoked Salmon
Salmon is very good when cured or smoked. But we'll be combining the two methods to make the best salmon you've ever tasted!
Ingredients
1-1/2 pound whole salmon fillet, skin and bones removed
1 shot (jigger) unflavored vodka or tequila (optional)
1/4 cup kosher salt
1/4 cup brown or raw turbinado sugar
2 TBS cracked black pepper
1 bunch of fresh dill, chopped
1/2 lemon, thinly sliced
Pecan or alder wood chips
Instructions
Curing:
Place the whole salmon fillet in a shallow baking dish, preferably glass or ceramic. Pour the alcohol over the fillet. If you need to cut the fillet in half and stack them, that is fine.
Mix salt, pepper, and sugar together and pat all over the salmon. Top with the lemon slices. Place the dill on top of that and gently press down.
Cover the top of the salmon tightly with plastic wrap, tucking it down into the dish. Place another layer of wrap over the dish to seal it tightly.
Place the salmon in the refrigerator overnight for approximately 8 to 12 hours. Note: This will not result in gravlox, as that would require curing for at least 72 hours. This is more like dry brining or marinating the fish to prepare it for smoking.
Smoking:
Remove the dish from the refrigerator. Discard the liquid. Rinse the fillet under cold water just to remove the seasonings, lemon, and herbs. Pat dry with paper towels and set the fillet aside for approximately 2 hours to allow it to completely dry.
Meanwhile, soak the wood chips in water.
Take one of the grills or grates from the smoker and brush or spray it with olive oil. Place the dry fish on the grate.
Preheat the smoker to approximately 160˚F. Place the wood chips in the side drawer. You may need more wood chips every 45 to 60 minutes. Watch for smoke. If there isn't smoke, add more chips.
Place the fish inside the smoker and cook for 3 to 6 hours. Check in 2.5 hours and then again each hour after that. Some people like the soft texture at 2.5 hours, while others prefer the firmer texture that you will achieve in 3 to 6 hours. You want the internal temperature of the fish to be at least 130˚F.
Nutrition Information:
Yield:

4
Serving Size:

1
Amount Per Serving:
Calories:

768
Total Fat:

31g
Saturated Fat:

6g
Trans Fat:

0g
Unsaturated Fat:

22g
Cholesterol:

143mg
Sodium:

3957mg
Carbohydrates:

57g
Fiber:

1g
Sugar:

50g
Protein:

51g
Smoked Salmon Crostini Recipe
Crostini are a wonderful snack, especially for a summer party or a brunch. Feel free to flavor your cream cheese with chives, chopped bell peppers, or horseradish. This recipe is fairly simple and easy to jazz up.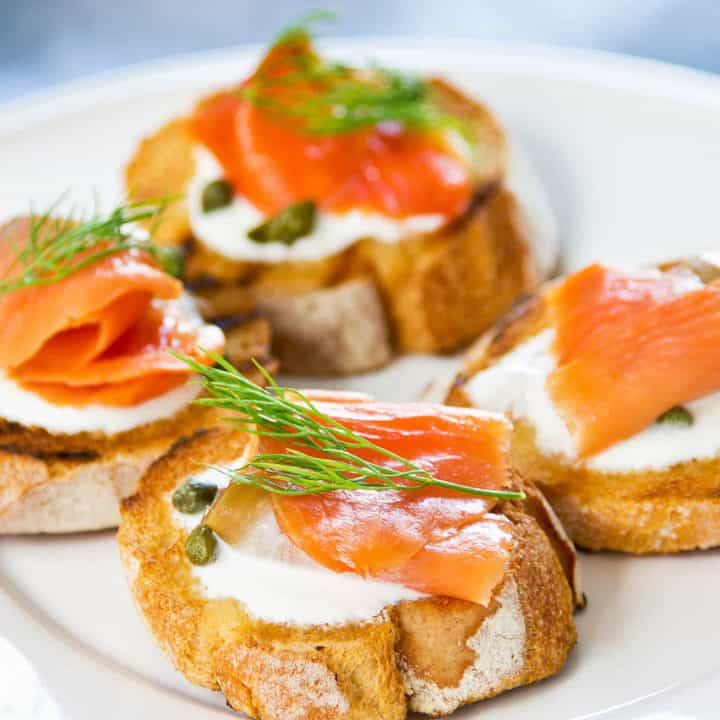 Smoked Salmon Crostini
Crostini are a wonderful snack, especially for a summer party or a brunch.
Ingredients
1 medium whole grain or white baguette sliced on the diagonal into 1/4″ pieces
2 TBS extra virgin olive oil (EVOO)
6 ounces cream cheese, softened
3 medium tomatoes, sliced thinly
Sea salt and black pepper
6 ounces smoked salmon
1 small jar of brined capers
Instructions
Preheat an oven to 400°F. Place the baguette slices on a baking sheet and brush both sides with EVOO and a sprinkling of salt. Bake until golden brown, approximately 4 to 5 minutes per side.
Spread the softened cream cheese on each slice of bread. Top with a tomato slice and season with a little salt and pepper. Top the tomato with flaked or sliced smoked salmon and 2 or 3 capers.
Serve with sparkling wine or lemon water.
Nutrition Information:
Yield:

4
Serving Size:

1
Amount Per Serving:
Calories:

496
Total Fat:

25g
Saturated Fat:

10g
Trans Fat:

0g
Unsaturated Fat:

12g
Cholesterol:

53mg
Sodium:

1601mg
Carbohydrates:

48g
Fiber:

3g
Sugar:

8g
Protein:

20g
More with Smoked Salmon
Salmon that has been dry brined and smoked will keep will in your refrigerator for a few days. There are so many versatile uses for smoked salmon. Try some of these ideas.
Add to scrambled eggs for breakfast
Pile high on an everything bagel
Make into fish cakes or croquettes with quinoa and a side of herbed mayonnaise
Turn it into a smoked salmon dip for vegetables
Top grilled flatbread or pizza
Add flavor and texture to twice baked potatoes
Pack your salad with smoky protein
Remember that salmon is good for you. Smoking salmon will make it go a long way.