Smoking is a delicious way to prepare a whole turkey. All you need is the turkey, seasonings, time, and patience. You also need the right equipment. For me, that is an electric smoker, such as the Masterbuilt Digital Electric Smoker.
My first attempt at smoking a whole turkey was an epic fail. I neglected to measure the height of my charcoal smoker from the grill surface to the underside of the dome lid before purchasing my giant turkey. The bird was too tall for the lid to close snuggly.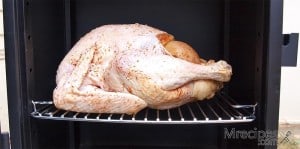 I did channel my inner MacGyver and came up with a smaller grill rack that was perched on rocks inside the smoker so the top would close tightly. Unfortunately, the turkey was too close to the heat source and was cooking unevenly. Needless to say, I ended up finishing the main attraction in the oven after 3 hours of trying to adjust the smoker.
Whatever type of smoker you use, buy a bird that will fit into it. I am a big fan of staying between 12 to 14 pounds. With a tall electric smoker box you could fit 2 smaller birds on upper and lower shelves, and maybe rotate them half way through the cooking.
Preparing the Turkey before Smoking
There are a few steps to take before the turkey is ready for the smoker. Follow these tips and you should get great results.
1. Size Matters. Buy a turkey that fits inside the smoker.
2. Thaw the turkey completely and slowly. If you purchase a frozen turkey, place it in a large pan in the refrigerator with the wrapping still on it. It will take approximately 2 to 3 days to completely thaw. Do not leave it out on the countertop to thaw more quickly.
3. Remove the neck and giblets. Yes, this is one of those "duh" moments. I know many a home cook who has served a turkey with the bag of giblets still in the cavity. Save them for making stock or gravy.
4. Should you brine? I have to be totally honest that I cannot tell much difference between a smoked turkey that has been brined or just really well seasoned. I have tried brining several times and am just not into all the effort that takes.
Don't buy a pre-brined or already seasoned bird. You never know how long it has been sitting in the brine. My experience is that you may end up with a salt bomb or a waterlogged fowl.
If you do brine, use a 1/2 cup of salt and 1/2 cup sugar to every gallon of water and completely submerge the bird. A cooler with a plastic bag to line it works pretty well. Allow the turkey to sit in this for 12 to 14 hours.
5. Rinse and dry. Whether you brine or not, thoroughly rinse the bird under cool running water. With plenty of paper towels, pat the inside and outside of the turkey until it is completely dry.
Now you can move on to the recipe for smoking a turkey in a Masterbuilt Electric Smoker. Recipe below is a herb rubbed smoked turkey recipe. We also have a different page if you're looking for how to make a perfect, smoked Thanksgiving Turkey. Many home cooks love to season a turkey with Cajun spices before smoking. I am a little old school in that I like turkey to smell and taste like Thanksgiving. My recipe uses more traditional poultry seasonings that seem to appeal to all tastes. Feel free to change it up and use Cajun spices or just salt and pepper.
Herb Rubbed Smoked Turkey Recipe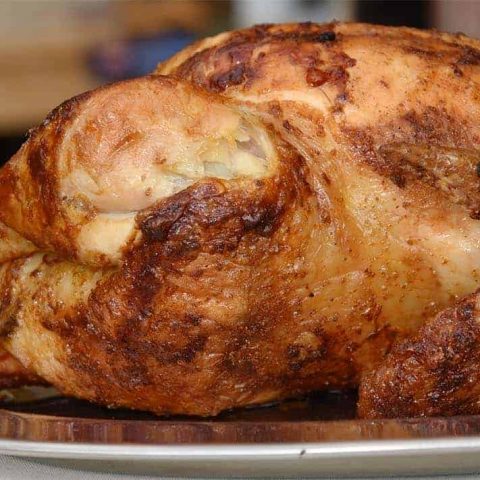 Herb Rubbed Smoked Turkey
Total Time:
6 hours
30 minutes
Smoking is a delicious way to prepare a whole turkey. All you need is the turkey, seasonings, time, and patience.
Ingredients
12 to 14 pound turkey, prepared as directed above.
2 TBS dried thyme
1 TBS powdered sage
2 tsps dried oregano
2 tsps paprika
2 tsps sea salt
1-1/2 tsps cracked black pepper
1 tsp dried rosemary
1 tsp onion or garlic powder (optional)
Zest of 1/2 an orange
1/4 cup extra virgin olive oil (EVOO)
1/2 cup apple cider
1/2 cup water
Apple or pecan wood chips
Instructions
Preheat the smoker to 225˚F.
In a small bowl, mix together all the dry herbs and spices. Rub the interior cavity of the turkey with 1/3 of the dry seasonings.
Add the EVOO and orange zest to the rest of the seasonings and rub all over the outside of the turkey.
Place the water and apple cider in the water pan in the bottom of the smoker, filling it only half way. Place a drip pan on the next shelf above the water pan to collect drippings from the turkey. Fill the side drawer with the wood chips.
Tuck the wing tips tightly beneath the turkey. Place the seasoned turkey on the middle rack of the smoker, close the door, and set a timer for approximately 6.5 hours. The turkey should smoke for 30 to 40 minutes per pound, until the inside temperature reaches 165˚F.
Check every hour for smoke. Add wood chips if you don't see any smoke. Start checking the internal temperature of the bird after 3 hours and every 45 minutes with an accurate meat thermometer. Alternatively, use the digital probe thermometer that came with your smoker.
Remove the cooked turkey to a cutting board and allow it to rest for a minimum of 20 minutes to 2 hours before carving.
Nutrition Information:
Yield:

16
Serving Size:

1
Amount Per Serving:
Calories:

806
Total Fat:

34g
Saturated Fat:

9g
Trans Fat:

0g
Unsaturated Fat:

22g
Cholesterol:

433mg
Sodium:

710mg
Carbohydrates:

5g
Fiber:

1g
Sugar:

2g
Protein:

114g
Smoked Sweet Potatoes
If you are looking for a convenient side dish to go with your turkey, try smoking some whole sweet potatoes. You can do these on the top rack above the turkey during the last 2 to 3 hours of smoking. Do not place them below the turkey that is not fully cooked.
Ingredients:
6 sweet potatoes
Extra virgin olive oil
Sea salt
Directions:
1. Wash the potatoes very well, removing the eyes. No need to peel them. Poke a couple of holes in them with a fork. Brush them with olive oil and sprinkle with sea salt.
2. After 3 hours of smoking your turkey, place the whole potatoes on the top rack above the turkey. Smoke them until they begin to ooze a little and feel soft. This will take anywhere from 2 to 3 hours.
Serve these whole with butter, salt, and pepper as a savory dish. Or, mash them with a little butter, cream, maple syrup, and nutmeg for a sweeter side dish.
A Bit about Turkey's Nutrition
Turkey is a lean source of protein. It is very low in fat. Turkey is an excellent source of B vitamins, potassium, and the minerals iron, zinc, and phosphorus.
Turkey also contains L-tryptophan, an essential amino acid. Our bodies use L-tryptophan to make niacin, serotonin, and melatonin. Serotonin is necessary for mood regulation, and melatonin promotes restful sleep.