It is spring and time to fire up your Masterbuilt Smoker and get back into smoking some awesome proteins. One of my favorite proteins is beef tenderloin. It is lean, soft, and flavorful. Beef tenderloin is a great cut to cook low and slow to just medium rare.
I often cook a beef tenderloin over charcoal as an alternative main dish for my Thanksgiving holiday meal. It is such a special treat and a nice option for those who don't care for turkey. It is the one dish that disappears as soon as it hits the table. I like it when it has lots of smoky flavor infused into the meat.
What is Beef Tenderloin?
The tenderloin is probably the most underutilized muscle on the steer or cow. The muscle sits toward the rump end. It is wedged between the sirloin and the top sirloin on the animal's back along the spine.
The tenderloin itself is not well marbled with fat. However, there is often a section of fat that surrounds the muscle that will be visible on your roast. This is not easy to eat, but can be used to prepare a nice jus or gravy.
The lack of exercise ensures that the meat is tender and never chewy. Care needs to be taken when preparing and smoking a whole tenderloin so that it cooks evenly, which I will explain. Smoking the tenderloin results in an evenly cooked roast. You can do this over charcoal or in an electric smoker. I prefer electric for the more even heat.
Preparing the Beef Tenderloin for the Smoker
The tenderloin is a long, thin cut with a tail end that is thinner than the center of the roast. The way to deal with that is to fold the tail under and tie the roast so that it is all the same thickness.
Before you tie the beef, you will need to trim the fat, otherwise referred to as the chain. Do this carefully with a sharp fillet knife being careful not to cut into the meat. You will also have to slice off the membrane known as the silver skin. This really does look like a thin layer of gray colored skin. Alternatively, ask your butcher to trim the beef for you.
Tuck the tail under just so that the roast is uniform in thickness. Using butcher's or kitchen twine, tie the beef every 2 inches to hold it together in the smoker. Set this aside to come to room temperature. Now, on to the recipe and cooking, which is surprisingly easy. I believe less is more with this cut of beef.
Smoked Beef Tenderloin with Horseradish Sauce Recipe
Ingredients:
1 whole beef tenderloin, trimmed (approximately 6 pounds)
2 TBS extra virgin olive oil
2 TBS kosher salt
1-1/2 TBS freshly ground black pepper
1 cup sour cream
3/4 cup prepared horseradish
1/4 cup Dijon mustard
1/4 cup good mayonnaise
1/4 cup chopped chives
Water or water and red wine
Oak or hickory wood chips
Total time:1 hour 45 min – Prep time:15 min – Smoke time:1 hour 30 min – Serves:10 people
Author: Nick
Directions:
1. Tie the roast as described above. Set it aside to come to room temperature. Fill the water bowl of your smoker half way with water, or 1/2 water and 1/2 red wine, and place the wood chips in the tray. Open the top vent. Preheat your smoker to 275°F.
2. Coat the tenderloin with olive oil. Season it all over with the salt and pepper.
3. Place the beef directly on the smoker rack. If there is a probe thermometer attached, place it in one end of the roast. Smoke the tenderloin for 1-1/2 hours and check the internal temperature. You are looking for 125°F to 130°F. Continue to smoke for up to 2 hours, checking the temperature every 15 minutes. Remember to check the water and wood chips every 45 minutes and replenish as needed.
4. Make the sauce while the beef is smoking. In a medium mixing bowl, whisk together the sour cream, horseradish, mustard, mayonnaise, and chives. Cover and refrigerate until ready to serve.
5. Remove the cooked beef tenderloin to a clean cutting board and tent loosely with foil. Allow the meat to rest for at least 15 minutes before slicing.
6. Snip the twine off of the meat with kitchen shears and remove. Slice the beef into 1/2 inch thick portions. Serve with the horseradish sauce on the side.
What to Serve with Beef Tenderloin?
Since I am calling this a good start to the spring smoking and grilling season, super fresh spring vegetables are perfect to pair with smoked beef tenderloin. I could eat young zucchini at least 3 times a week. The same goes for fresh English peas.
However, one of the best vegetables in spring is asparagus. I honestly can't bring myself to buy asparagus, or tomatoes for that matter, in winter. Winter asparagus stems are woody and often look old and dried out. The bunches are often displayed in a bed of ice. That is a sign to me that the asparagus is not fresh and may have been in transit for days.
I grew asparagus in my garden for a few years. It was a labor of love. I planted in the fall and just waited. To my surprise, I had spears in the spring. I was warned that it may take a couple of seasons to get my first crop. Not sure what was in my organic soil, but it was awesome. That said, the yield was not spectacular – one spear per seed. We ate it all in 2 weeks.
Freshly cut spring asparagus is like nothing else. The stalks are so sweet, slightly crisp, and full of moisture. You can eat them raw, and I recommend a shaved, raw, spring asparagus salad. If you are late to the game, try this recipe for prosciutto wrapped asparagus.
Prosciutto Wrapped Asparagus Stalks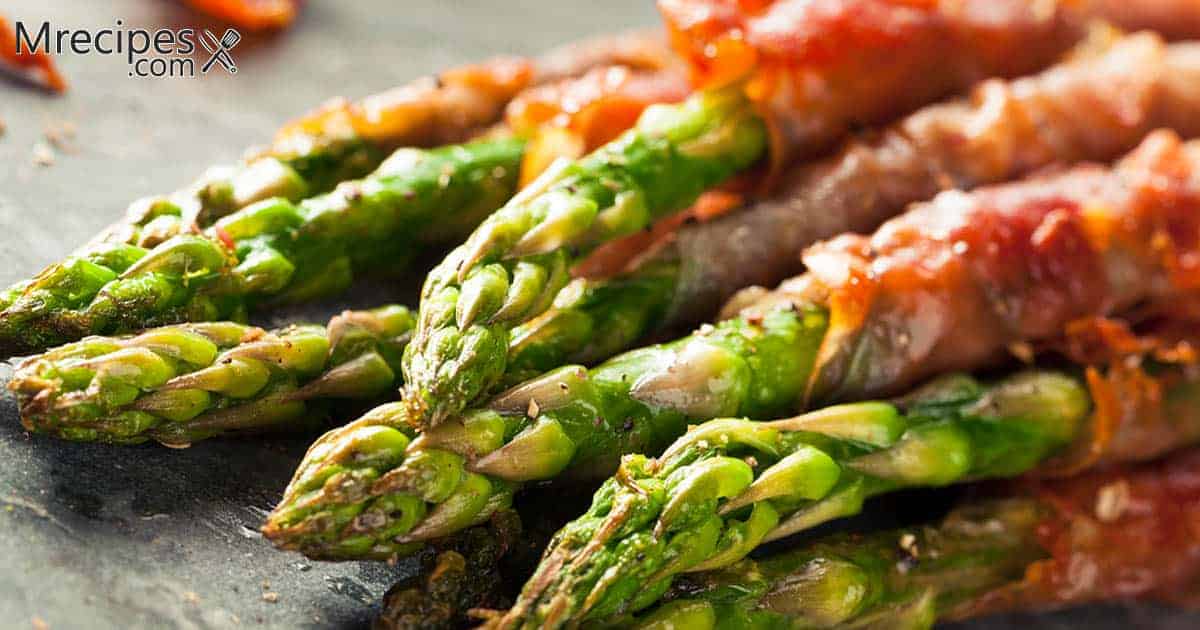 Ingredients:
2 pounds fresh, thick asparagus
7 ounces (+/-) prosciutto slices
3 TBS extra virgin olive oil
1 tsp lemon or lime zest
1 tsp freshly ground pepper
1/2 tsp sea salt
1/2 cup finely crumbled feta cheese
Total time: 30 min – Prep time: 20 min – Cook time: 10 min – Serves: 10 people
Directions:
1. Rinse and pat dry the asparagus. Snap off the tough ends – they will naturally snap where the tough meets the tender part. Preheat the oven to 400°F. Line 2 large sheet pans with parchment paper and set aside.
2. Slice the prosciutto in half lengthwise. Wrap each asparagus spear with a 1/2 slice of prosciutto. Place the wrapped asparagus on the sheet pans. Drizzle the olive oil over the asparagus. Sprinkle the citrus zest all over the asparagus. Season with salt and pepper.
3. Bake the asparagus for 8 to 10 minutes until slightly tender but with a little crispness. Test with a fork.
4. Place the asparagus on a large serving platter with tongs. Crumble the feta cheese all over the top. Serve while warm with your beef tenderloin.
Smoked potatoes are also excellent with beef tenderloin. Smoked beef tenderloin and vegetables are very nice when paired with Pacific coast wines, such as Zinfandel or Pinot Noir.