A beef bottom round roast is cut from the hind quarters of the steer or cow. This portion is also appropriately referred to as a rump roast. This is a fairly lean muscle with lots of beefy flavor. When you purchase roast beef at the deli counter of your market, this is likely what you are getting. It is seasoned well, oven roasted, and sliced thinly.
Because a bottom round roast is well priced, it is a great cut or beef to feed a crowd. I recall having roast beef growing up that felt like a special meal. It was always a bottom round roast baked in the oven for a long time on low heat. Sometimes it was medium and sometimes it was well done. Getting it perfectly medium-rare was tricky. But it still tasted good because it was sliced as thinly as possible and either piled high on white bread for sandwiches or sliced a little thicker and served with mashed potatoes and gravy.
On occasion, the roast was braised in a pressure cooker with beef stock, red wine, and root vegetables. This was very tender and juicy and was our family version of pot roast with a beautiful sauce. You could pull the beef apart with your fork.
Smoking a Bottom Round Roast
For a nice alternative to oven roasting, try cooking a bottom round roast low and slow in your Masterbuilt Smoker. There isn't much preparation needed for this method of cooking roast beef. I don't think there is much benefit to marinating or brining a roast beef. But, I do like a good dry rub seasoning to impart a little more flavor and to get a nice crust on the outside of the roast while it smokes.
The great thing about smoking a bottom round is that it doesn't take long to achieve that dark exterior and rosy pink interior. For perfect roast beef, you are looking for an internal temperature of 130 to 135°F. Once that is achieved, rest the meat before slicing it. This protein is really best when sliced as thinly as possible.
Sliced roast beef goes a long way when served with other meats, cheeses, lettuce, tomatoes, and condiments for making sandwiches. I have included one of my favorite smoked bottom round roast sandwich recipes with horseradish at the end of this post. Don't like horseradish? Use Russian dressing instead.
Choose wood chips with a good amount of flavor, such as hickory, for your electric smoker.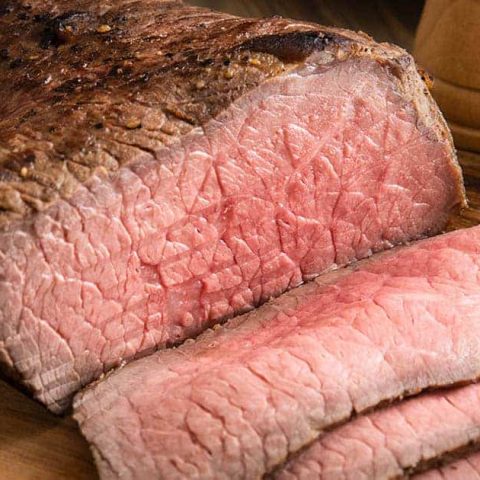 Smoked Dry Rubbed Bottom Round Roast
Cook Time:
1 hour
45 minutes
Smoking perfect bottom round roast is super easy. It doesn't take long to achieve that dark exterior and rosy pink interior.
Ingredients
3 pound bottom round roast of beef
1/4 cup prepared yellow mustard
1 TBS freshly ground black pepper
2 tsps garlic powder
2 tsps onion powder
1-1/2 tsps brown sugar
1 tsp paprika
1 tsp kosher or coarse sea salt
Water and wood chips for the smoker
Instructions
Remove the bottom round roast from the refrigerator 40 minutes prior to cooking it so it can come to room temperature.
In a mixing bowl, whisk together the pepper, garlic powder, onion powder, sugar, paprika, and salt. Using your hands, coat the entire roast with the mustard. Pat the dry rub into the layer of mustard to cover the roast. Set aside while you preheat your smoker.
Fill the water bowl of your smoker half way and place the wood chips in the tray. Open the top vent. Preheat your smoker to 250°F.
Place the roast directly on the smoker rack. If there is a probe thermometer attached, place it in one end of the roast. Smoke the beef for 90 minutes and check the internal temperature. You are looking for 130°F to 135°F. Continue to smoke for up to 1 hour and 45 minutes, checking the temperature every 20 minutes. Remember to check the water and wood chips every 45 minutes and replenish as needed.
Remove the cooked bottom round roast to a clean cutting board and tent loosely with foil. Remember that the roast will continue to cook up to approximately 140°F. Allow the meat to rest for at least 15 minutes before slicing. You can allow the roast to cool down completely if using for sandwiches.
Slice the smoked bottom round roast as thinly as possible and use to make classic roast beef sandwiches. See the recipe that follows. Or, serve with your favorite side dishes.
Nutrition Information:
Yield:

10
Serving Size:

1
Amount Per Serving:
Calories:

346
Total Fat:

18g
Saturated Fat:

7g
Trans Fat:

0g
Unsaturated Fat:

9g
Cholesterol:

123mg
Sodium:

370mg
Carbohydrates:

4g
Fiber:

1g
Sugar:

1g
Protein:

39g
Classic Roast Beef Sandwich Recipe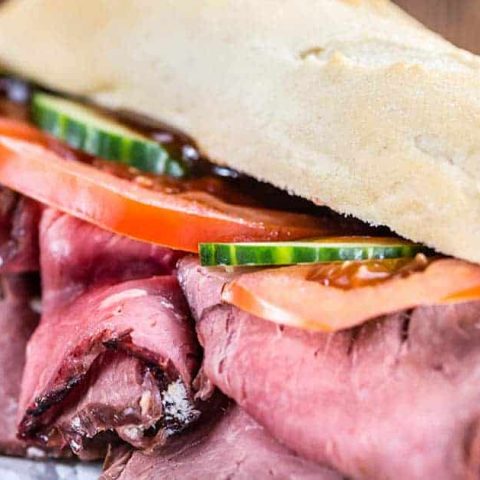 Classic Roast Beef Sandwich
Easy and tasty classic roast beef sandwich.
Ingredients
3/4 cup mayonnaise
3/4 cup sour cream
1/3 cup jarred, grated horseradish (with some liquid)
1/2 tsp grated lemon zest
1-1/2 tsps kosher salt
1 tsp freshly ground black pepper
A few dashes of hot sauce
6 Kaiser rolls
12 slices vine-ripened tomatoes
24 ounces thinly sliced medium-rare roast beef (12 to 18 slices)
1 cup pickled onions or thin cucumber pickle slices
3 cups loosely packed arugula or shredded romaine lettuce
Salt and pepper to taste
Instructions
In a small mixing bowl, whisk together the mayonnaise, sour cream, horseradish, lemon zest, salt, pepper, and hot sauce. Cover and refrigerate the horseradish sauce for 30 minutes.
Preheat your oven broiler. Slice the rolls in half. Using your hands, scoop out a little bread from each half so that the sandwich filling will settle in nicely. Place the rolls on a baking sheet with the insides facing up. Broil for 1 minute just to toast them lightly.
Spread some sauce on each roll half in equal amounts. On each of the roll bottoms, layer 2 tomato slices. Top the tomatoes with some of the roast beef slices and season with salt and pepper to taste. Top the meat with pickled onions or cucumber pickle slices. Top that with the greens and the roll tops.
Cut the sandwiches in half and serve with potato chips. I like to finish this meal with a smoked berry cobbler or smoked maple apples
Nutrition Information:
Yield:

6
Serving Size:

1
Amount Per Serving:
Calories:

491
Total Fat:

32g
Saturated Fat:

8g
Trans Fat:

0g
Unsaturated Fat:

22g
Cholesterol:

86mg
Sodium:

2414mg
Carbohydrates:

24g
Fiber:

3g
Sugar:

7g
Protein:

26g
What to Do with Leftovers
When I smoke or bake too much beef and have leftovers, I have a few dishes that I like to make with the leftovers.
If the beef is already sliced, here is what I love:
French Dip Sandwich: Roast beef slices on a crusty roll or baguette with Swiss cheese (optional) dipped in hot au jus or beef stock.
Philly Cheese Steak Sandwich: Shaved roast beef with creamy cheese sauce, grilled peppers and onions, on a hoagie or sub roll.
Negimaki: Thin slices of roast beef rolled around spring onions, coated with teriyaki sauce and, grilled or broiled.
Beef Tacos: Warm tortillas with shredded lettuce, sliced roast beef, pico de gallo, avocado slices, and queso fresco.
If the beef has not been sliced, this is what I make:
Texas Chili: Cubes of smoked bottom round roast simmered in tomatoes and beer with onions, garlic, chili peppers, oregano, and cumin topped with cheese and sour cream.
Breakfast Hash: Small cubes of beef with diced potatoes and onions sautéed in olive oil and topped with a runny poached egg.
Beef Stew: Large beef cubes simmered with celery, carrots, potatoes, onions, garlic, and broth until the beef is fork tender.
Barley Soup: Roast beef cubes, mushroom slices, and onions sautéed in butter and then simmered in broth with pearled barley and fresh thyme leaves.