Veal is the meat from the young calves of dairy herds, mainly males. Generally, veal is more expensive than beef from more mature cattle. The calves are milk fed for a very sweet and tender meat. Veal is generally leaner than older beef.
This is a traditional protein in many French, Italian, and Austrian cuisines. Popular cuts of veal include chops, cutlets, roasts, racks, loins, and shanks. The bones of calves are often used to make a rich stock filled with healing collagen. The offal is also prized for the liver, sweetbreads, and tongue.
The rack is the rib portion cut from the upper middle back of the calf. There are often 5 or 6 ribs in a rack. Rack of veal is commonly roasted in an oven, just as you would prime rib of beef, but for less time. Because veal is so tender, it can be cooked to medium rare or even to medium well and still remain quite soft.
You can also slow smoke this tasty cut of meat in your Masterbuilt Smoker. I like it well seasoned with an herb and spice rub. Veal is great served with smoked or roasted root vegetables and a tomato salad. A perfect dessert to complete this meal is wine poached pears.
Herb Rubbed Smoked Rack of Veal
Ingredients:
4 pound veal rack
4 TBS Kosher or coarse salt
3 TBS brown sugar
2 TBS dried thyme
1 TBS dried rosemary
1 TBS paprika
1 TBS garlic powder
1 TBS freshly cracked pepper
1/4 tsp cayenne pepper
3 TBS extra virgin olive oil
Water
Hickory or apple wood chips
Total time:3 hour 40 min – Prep time:10 min + marinating for 4 hours – Smoke time:3 hour 30 min – Serves:4 people
Author: Nick
Directions:
1. In a small bowl, combine the salt, sugar, thyme, rosemary, paprika, garlic, pepper, and cayenne.
2. Trim any silver skin off of the rack. Remove all but 1/4″ of the fat cap (optional). Place the veal ribs on a baking sheet or in a baking dish and brush olive oil on all surfaces. Pat the dry rub all over the veal. Cover with plastic wrap and place the pan in the refrigerator for 4 hours.
3. Remove the veal from the refrigerator 45 minutes prior to smoking it.
4. Preheat your MB smoker to 225°F. Fill the water bowl 1/2 way. Place wood chips in the side tray. Open the top vent.
5. Place the veal directly on the middle grill rack of the smoker, fat side up. Smoke for 3 to 4 hours or until the internal temperature reaches approximately 155°F when checked with a digital or probe meat thermometer. While the veal is cooking, prepare your root vegetables for smoking during the final 2 hours. Check the water bowl and wood chip tray every 60 minutes and replenish as needed.
6. Remove the rack of veal to a clean cutting board and cover loosely with foil. Allow the veal to rest for 15 minutes before slicing.
7. Slice between the rib bones and serve the chops with lemon wedges, smoked root vegetables, and a tomato salad. Recipes follow.
Smoked Root Vegetables
Ingredients:
12 small Yukon gold potatoes
6 large carrots, trimmed and peeled, cut into thirds
6 medium parsnips, trimmed and peeled, cut to the same size as the carrots
6 small beets, trimmed and peeled
2 heads of garlic, cut in half vertically, not peeled
1/2 cup extra virgin olive oil
2 TBS dried thyme
1 TBS dried rosemary
1 TBS sea salt
Total time: 2 hour 15 min – Prep time: 15 min – Smoke time: 2 hour – Serves: 6 people
Directions:
1. Clean and prepare all the vegetables. Place them in a disposable foil roasting pan.
2. In a small bowl, combine the oil, thyme, rosemary, and salt. Pour the mixture all over the vegetables and toss them to coat evenly.
3. Place the pan on the rack above the veal when there are 2 hours left of smoking time. Smoke for 2 hours or until tender when pierced with a sharp knife or fork.
4. Remove the vegetables to a large serving bowl. Squeeze the garlic cloves from the skins on top of the vegetables. Discard the skins. Serve the vegetables with the veal.
Heirloom Tomato Salad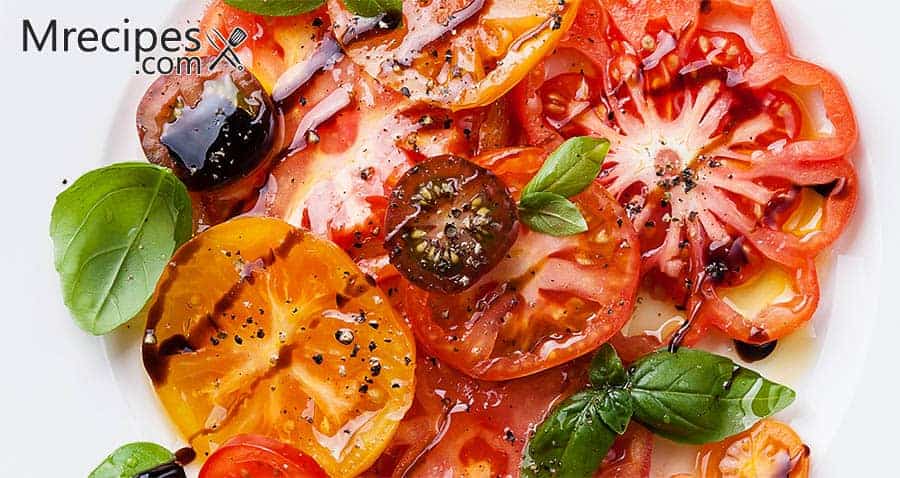 Ingredients:
4 large red, purple, or orange heirloom tomatoes
2 tsps coarse salt
2-1/2 to 3 TBS good extra virgin olive oil
2 tsps red wine vinegar
3 TBS chopped basil
2 TBS freshly grated parmesan cheese
Total time: 10 min – Prep time: 10 min – Serves: 4 people
Directions:
1. Trim the tomatoes. Cut in half and slice 1/4" thick. Arrange the tomato slices on a platter.
2. Sprinkle the salt on the tomatoes. Drizzle the olive oil all over. Spoon the vinegar all over the top. Scatter the basil and cheese over the dressed tomatoes.
3. Serve with smoked veal chops and root vegetables.
Pears Poached in Prosecco
Ingredients:
1 bottle of prosecco
Zest of one lemon
2 TBS fresh lemon juice
1 cup white sugar
1 cinnamon stick
1/2 fresh vanilla bean
6 firm pears
Total time: 50 min – Prep time: 10 min – Smoke time: 40 min – Serves: 6 people
Directions:
1. Peel the pears, leaving the stems intact. Set aside.
2. In a large saucepan over medium-high heat, combine the prosecco, lemon zest, lemon juice, sugar, cinnamon, and vanilla. Bring the mixture to a boil and cook for approximately 5 minutes. Add the pears, lower the heat, and cook for approximately 20 to 30 minutes until the pears are tender, turning the pears to cook evenly.
3. Remove the pears to a container or baking dish bowl. Turn the heat up and bring the poaching liquid back up to a boil until it reduces by half into a syrup. Pour the syrup over the pears, cover with plastic wrap or a lid and refrigerate for at least 6 hours.
4. Serve the pears in bowls. You can add a scoop of vanilla ice cream.