I think most people like a good Tex-Mex dip for dunking tortilla chips into. The cheese is warm and gooey. The ground meat is well seasoned and offers a nice textural element. The tomatoes and peppers offer some brightness and acidity.
You can bake this in an oven at 350°F until bubbly and warm, then serve it hot. Or, go a step further and cook the dip in your smoker. It is amazing how delicious this dip is when infused with the flavor of wood smoke. This takes about 2 hours at 250°F.
Variations on Smoked Queso Dip
The basic recipe uses a variety of melting cheese, including Velveeta, ground beef, diced canned tomatoes and chili peppers, and seasonings. It is naturally gluten-free and keto-compliant. Here are some ways to change that up for a nice spin on the classic recipe:
Vegetarian:
Of course, you could leave the meat out and go for a vegetarian dip. If doing that, I am inclined to recommend adding in some small, canned black beans for texture.
Spiced Meat:
Ground beef has a nice texture in this dip. I like to season the beef well with salt, pepper, chili powder, and cumin. Or, use a packet of taco seasoning mix. You do need to break the beef up well while it is browning so you don't have large clumps of meat that are difficult to scoop up with chips.
You could substitute ground chorizo or even Italian sausage for a bit more flavor and some heat. Or, go for a combination of beef and chorizo. Whatever ground meat you choose, be sure to drain it well of any excess fat after it is browned.
Fresh Veggies:
Using cans of diced tomatoes and chili peppers is super convenient. There are certain brands that have this combo. If you can't find a can of tomatoes and peppers combined, just use a 15 ounce can of diced tomatoes and a small 5 to 6 ounce can of chopped green chili peppers.
If I am feeling ambitious, I prefer to use fresh vegetables in this recipe. I will chop up red or green onions (or both), ripe Roma or cherry tomatoes, jalapeño peppers, and a good amount of fresh cilantro leaves. This results in a little bit of crunch and bright flavors. It also looks really attractive.
Real Cheese:
I say "real cheese" because the Velveeta in the recipe is a shelf-stable product made mostly from whey protein with some flavorings and preservatives added. It melts really well and will stay creamy and soft while warm. That is why it is a common ingredient in queso dips
If you are like I am, Velveeta might not be a staple in your pantry. I definitely prefer the taste of real cheese to a cheese food product. You can make your own melting dipping cheese sauce to replace the Velveeta component using a blend of American cheese, cheddar cheese, and milk. This option is included in the smoked queso dip recipe.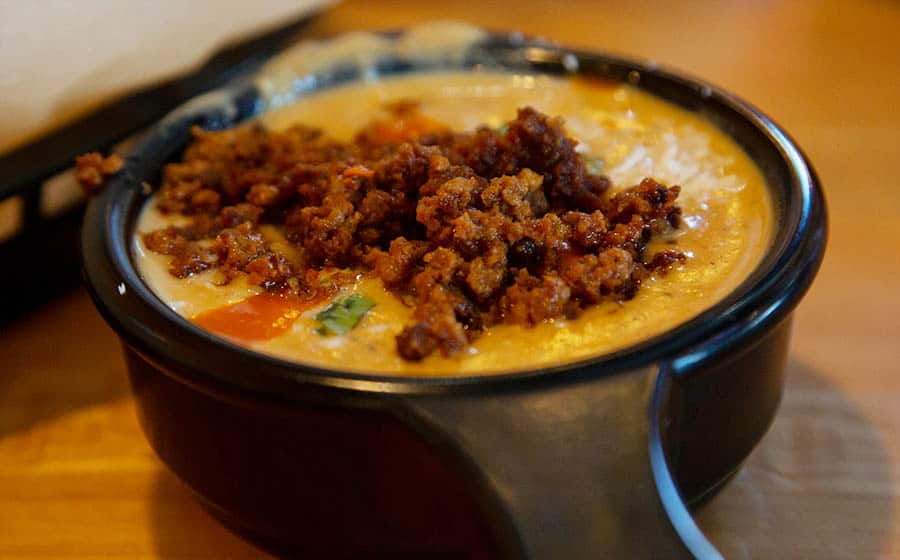 Smoked Queso Dip Recipe (Gluten-Free, Keto)
You will need an 11 x 13-inch disposable foil baking pan.
Ingredients:
1 pound lean ground beef
1 tsp chili powder
1/2 tsp ground cumin
1/2 tsp sea salt
1/2 tsp freshly ground pepper
2 (10 ounces each) cans of diced tomatoes and green chilis, undrained
1 large red onion, finely chopped
2 or 3 jalapeño peppers with seeds and stems removed, chopped well
1 bunch fresh cilantro, chopped finely
16 ounces shredded sharp cheddar cheese
10 ounces cubed Velveeta cheese or cheese sauce*
8 ounces pepper jack cheese
1/2 cup half and half (if needed)
2 large bags of corn tortilla chips or fresh vegetable sticks for keto
Water
Any wood chips
Total time:2 hour 15 min – Prep time:15 min – Smoke time:2 hour – Serves:8 people
Author: Diana
Directions:
1. Fill the smoker bowl 1/2 way with water. Place the wood chips in the side tray of the smoker. Open the top vent. Turn the smoker on and preheat to 250°F.
2. In a skillet over medium-high heat, brown the beef and season it with chili powder, cumin, salt, and pepper. Drain well and place it in the bottom of the foil pan in an even layer.
3. Add the other ingredients in layers in this order: Canned tomatoes and peppers, onion, jalapeños, cilantro, cheddar cheese, Velveeta cheese, pepper jack cheese.
4. Place the pan inside the smoker and cook for approximately 1 hour or until the cheese melts. Once melted, stir everything together to combine well. If the dip feels too thick, add 1/2 of the half and half and stir in. Place the queso back into the smoker and cook until bubbling, approximately 30 to 60 minutes longer. Again, if the dip feels too thick or stiff, stir in some more of the half and half and heat through for a few more minutes.
5. Remove the queso from the smoker to a counter or table protected with a trivet and serve family-style with tortilla chips and sliced vegetable sticks.
*Optional Cheese Sauce
Ingredients:
6 ounces shredded natural American cheese (not processed)
4 ounces shredded sharp cheddar cheese
1/2 cup + 2 TBS whole milk
1/2 tsp ground cumin
1/4 tsp ground turmeric for color (optional)
Total time: 15 minutes – Prep time: 5 minutes – Cook time: 5 to 10 minutes – Yield: 2 cups
Directions:
1. In a saucepot over medium heat, place all the ingredients. Heat until everything melts, stirring often. Allow the sauce to cook until it is the desired consistency – not too thin or so thick that it doesn't pour.
2. Use this in place of Velveeta for a melting dipping sauce.
Storing Queso Dip
Queso dip with ground meat can be stored in a sealed container in the refrigerator for 3 or 4 days. Without meat, the dip should keep for up to a week. Make sure it is cool before placing it in the refrigerator.
You might think queso dip won't keep well in the freezer because it has dairy in it. Frozen dairy has the tendency to separate and lose its original texture once it has been defrosted. Cheese dip fares a little better in the freezer than some other dishes with dairy if you take a little time to package it properly.
Queso dip is best frozen when it doesn't contain broken remnants of tortilla chips in it. It also does better with fewer bacteria. Bacteria in dip mostly come from those who do the double-dip thing. If you have some double-dippers, put some queso dip aside for freezing before you serve all of it.
Once the dip has cooled down, divide it into serving portions so you won't have to defrost more than you will use. I like using small resealable plastic baggies. Just spoon the dip into the bags, leaving about an inch or two of space, and seal tightly. Write the date on the bag with a marker and place it in the freezer for up to 4 months.
To thaw the frozen queso dip, place the bag in your refrigerator for several hours or overnight. Pour the dip into a skillet that is on low heat. Stir frequently as it heats up and comes together into a smooth dip. Or, reheat the dip in the microwave on high for approximately 20 minutes. Stir the dip and microwave again if it isn't warm enough.