If you are a seasonal hunter, this recipe might be perfect for you. Fresh pheasant is a flavorful and lean game bird. If you are not a hunter, you can find pheasant in specialty butcher shops or you can order it online from purveyors that practice humane raising of the birds on farms with "free-flight". The quality of the pheasant meat depends on its ability to forage and fly freely.
I remember the first time I had pheasant. The flesh was darker in color than chicken or turkey. There was minimal fat. It resembled red meat in texture. I was in my 20s and a little lacking in knowledge when it came to proteins that were not from the grocery store meat aisle in a package. I actually delighted in every bite and my culinary world expanded that evening. However, I found that I could only eat a few slices because the meat was quite rich and dense.
I think the trick to cooking some wild game birds, especially when smoking them, is to brine them first so that they are tenderized. I know I am not always a huge fan of brining, but this method seems to work so that you don't end up with tough or chewy meat. Keep in mind that these birds run, fly, and forage all day. They are pretty much all muscle. And, when you snag one during a hunt it might be an older bird. I would brine just in case.
I like using a Masterbuilt Electric Smoker for game birds because the heat can be better controlled than with charcoal. An apple or hickory wood will add that autumnal flavor. You can also place 1/2 water and 1/2 apple cider in the water pan for another seasonal element.
You are going to need to make some room in your refrigerator for this recipe.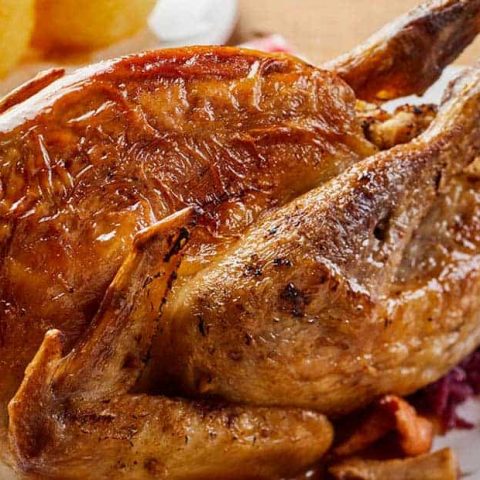 Brined and Smoked Pheasant with a Honey Glaze
Additional Time:
12 hours
Total Time:
16 hours
30 minutes
Learn how to smoke a perfect pheasant using your Masterbuilt smoker.
Ingredients
2 Whole pheasants with skin on, 2 to 3 pounds each
1/2 Cup Kosher salt
1/2 Cup brown sugar
8 Cups water
1 Bay leaf
1 tsp dried thyme
1 tsp dried thyme
1/2 tsp dried sage
1/2 tsp dried sage
1/2 tsp cracked black pepper
1/2 tsp cracked black pepper
1 cup raw amber honey*
1 cup raw amber honey*
Juice of 1/2 lemon
Juice of 1/2 lemon
Instructions
In a large pot, place the water and bring to a boil. Stir in the salt and sugar, turn off the heat, and allow the dry ingredients to melt and combine with the water. Set this aside to cool.
Add the herbs and the pheasants to the cooled brine in the pot. Cover and place in the refrigerator overnight (8 to 10 hours). Alternatively, place all ingredients in an ice chest, add some ice, and place the chest in a cool area.
In the morning, rinse the pheasants under cool running water. Pat them dry with paper towels. Place the birds on a wire rack inside a sheet pan. Place the pan inside the refrigerator for 1-1/2 hours to dry the birds. Throw out the brining solution and thoroughly clean the ice chest or pot and your sink of any raw juices.
Remove the pheasants from the refrigerator and leave on your kitchen counter for up to 90 minutes to come to room temperature.
Prepare your smoker by filling the tray with wood chips. Fill the water bowl 1/2 way with equal parts plain water and apple cider. Preheat the smoker to between 200˚F and 250˚F with the top vent cracked open.
Tie the legs of the birds together and tuck the wings underneath the backs. Place them directly on the bottom or middle racks. (You can smoke sides on the upper racks). Smoke for 1 hour. At 45 minutes, whisk together the honey and lemon juice over a very low heat, just to melt it.
At 1 hour, check the water and wood chips. Replenish every 60 minutes as needed. Baste or coat the birds with some of the honey mixture. Baste again every 30 minutes. Continue to smoke the birds until they reach an internal temperature of 160˚F when a thermometer is inserted in the thigh. This will take anywhere from 3 to 5 hours depending on the size of the birds and the temperature of your smoker.
Remove the pheasants to a cutting board and tent with foil. Allow them to rest for 20 minutes before carving to ensure they remain moist.
Serve with seasonal side dishes. Some suggestions are below.
Nutrition Information:
Yield:

6
Serving Size:

1
Amount Per Serving:
Calories:

457
Total Fat:

10g
Saturated Fat:

3g
Trans Fat:

0g
Unsaturated Fat:

6g
Cholesterol:

75mg
Sodium:

5119mg
Carbohydrates:

68g
Fiber:

1g
Sugar:

66g
Protein:

28g
Seasonal Side Dishes
There are some sides that can stand up to the flavors and textures of smoked game birds. Seasonal fruits, tree nuts, vegetables of the brassica variety, and winter squashes come to mind. Brassicas include cabbages, broccoli, sturdy greens, etc. Here are a few recipes you might want to try.
Classic Cranberry Relish – This recipe includes tart cranberries, sweet orange, and crunchy walnuts.
Acorn Squash, Sweet and Savory – Acorn squash is naturally sweet and is fabulous with the smoked pheasant.
Smoked Brussels Sprouts Recipe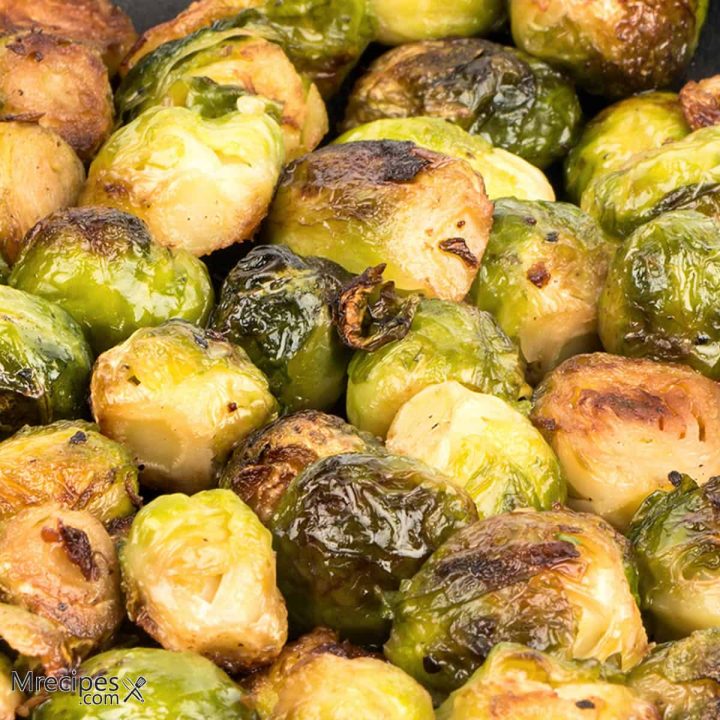 Smoked Brussels Sprouts
Learn to smoke delicious brussels sprouts.
Ingredients
1-1/2 lbs Brussels sprouts
2 cloves of garlic minced
2 TBS extra virgin olive oil
Sea salt and cracked black pepper
Instructions
Rinse the sprouts under cold running water in a colander and allow them to drain. Trim the brown bottoms off of the sprouts and remove any discolored outer leaves.
Place the damp sprouts in a large bowl and coat with the olive oil, minced garlic, and salt & pepper to taste. Transfer to your foil pan.
Smoke in a preheated electric smoker on the upper rack with any wood chips and water or apple cider in the smoker bowl at 250˚F for approximately 45 minutes until fork tender.
Nutrition Information:
Yield:

6
Serving Size:

1
Amount Per Serving:
Calories:

98
Total Fat:

5g
Saturated Fat:

1g
Trans Fat:

0g
Unsaturated Fat:

4g
Cholesterol:

0mg
Sodium:

131mg
Carbohydrates:

12g
Fiber:

4g
Sugar:

3g
Protein:

4g
Pheasant pairs nicely with a dry, lighter, red wine, such as a Pacific Coast pinot Noir or a dry, fruity Zinfandel. It is also timely served with a Beaujolais Nouveau.