Cooking sweet potatoes in your Masterbuilt Smoker is super easy and very rewarding. The potatoes just soak up the smoky flavor and the flesh becomes soft and creamy. You can enjoy smoked sweet potatoes with just a little butter or sour cream. But, I really enjoy trying different toppings and stuffings to make an entrée out of smoked sweet potatoes.
The recipes here include 3 ideas for topping or stuffing your smoked sweet potatoes. The first is a simple maple sweetened butter that is terrific for a holiday dinner side dish. The second is a stuffing of turkey or chicken and cranberries. This is perfect for making use of your leftover roasted or smoked poultry. The third incorporates a hardy beef chili that will place your sweet potatoes at the center of the meal.
Nutrition of Sweet Potatoes
Sweet potato is a starchy root vegetable that is fairly high in calories. Even so, the calories are free of cholesterol and saturated fat. They are a rich source of complex carbohydrates, vitamins, minerals, antioxidants, and dietary fiber.
These tasty tubers are high in beta-carotene and vitamin A that are essential for healthy skin and good eyesight. They are packed with a variety of B vitamins and vitamin C. Sweet potatoes are also a great source of essential minerals: calcium, iron, magnesium, manganese, and potassium.
These are all good reasons to include more sweet potatoes in your diet. And, they are naturally sweet, which is a plus for getting kids to eat vegetables.
Easy Smoked Sweet Potatoes (Vegan, Gluten-Free, Paleo, and Keto)
Ingredients:
6 whole sweet potatoes, washed well and patted dry
2 TBS extra virgin olive oil
1 TBS sea salt
Water
Maple or pecan wood chips
Total time:1 hour 45 min – Prep time:5 min – Smoke time:1 hour 40 min – Serves:6 people
Author: Diana
Directions:
1. Fill the water bowl of your smoker 1/2 way. Place wood chips in the side tray. Preheat the smoker to 275°F with the top vent open for approximately 5 to 10 minutes.
2. Using a fork, prick the skins of the potatoes approximately 10 times. Coat the potatoes completely with olive oil. Season all over with salt.
3. Place the sweet potatoes on a rack of your smoker. Cook for 1-1/2 to 2 hours until the potatoes are soft when gently squeezed with your hands or tongs. The juice of the potatoes will start to ooze from the tiny fork holes. Remember to replenish the water bowl and wood chip tray as needed, approximately at 45 minutes.
4. While the potatoes are smoking, prepare your toppings and other dishes. Recommendations and recipes follow.
5. Remove the smoked sweet potatoes to a cutting board. Slice the tops open and give each a little squeeze to expose the flesh. Serve immediately while still hot with toppings.
Maple Pecan Butter
Ingredients:
1/2 cup (1 stick) salted butter, at room temperature
1/4 cup pure maple syrup
1 tsp ground cinnamon
1/4 cup chopped toasted pecans
Total time: 5 min – Prep time: 5 min – Serves: 3/4 cup
Directions:
1. In a small mixing bowl, whisk or stir together the butter, maple syrup, and cinnamon. Fold in the pecan pieces.
2. Slice the hot sweet potatoes open and spoon the butter over the flesh. Serve right away.
Roast Turkey or Chicken and Cranberry Stuffing (Paleo)
Ingredients:
2 lbs leftover roasted or smoked turkey or chicken breast meat, pulled or shredded
3 cups frozen cranberries, not thawed
Zest and juice of one large navel orange
1 cup filtered water
1/3 cup pure maple syrup
1 tsp cinnamon
1/4 tsp sea salt
1/3 cup toasted and chopped hazelnuts for serving (optional)
Total time: 14 min – Prep time: 5 min – Smoke time: 9 min – Serves: 4 people
Directions:
1. In a medium saucepan over medium-high heat, combine 2-1/2 cups of the cranberries, orange zest and juice, water, maple syrup, cinnamon, and salt. Bring to a boil. Reduce the heat to a slow simmer and cook for 5 to 8 minutes until thickened. Stir in the remaining cranberries and warm through for 1 or 2 minutes.
2. Fluff the sweet potato flesh with a fork. Place the pulled or shredded poultry in the pockets of the potatoes in equal portions. Spoon warm cranberry sauce over the turkey or chicken. Top with the hazelnuts, if using, and serve.
Beef and Black Bean Chili Topping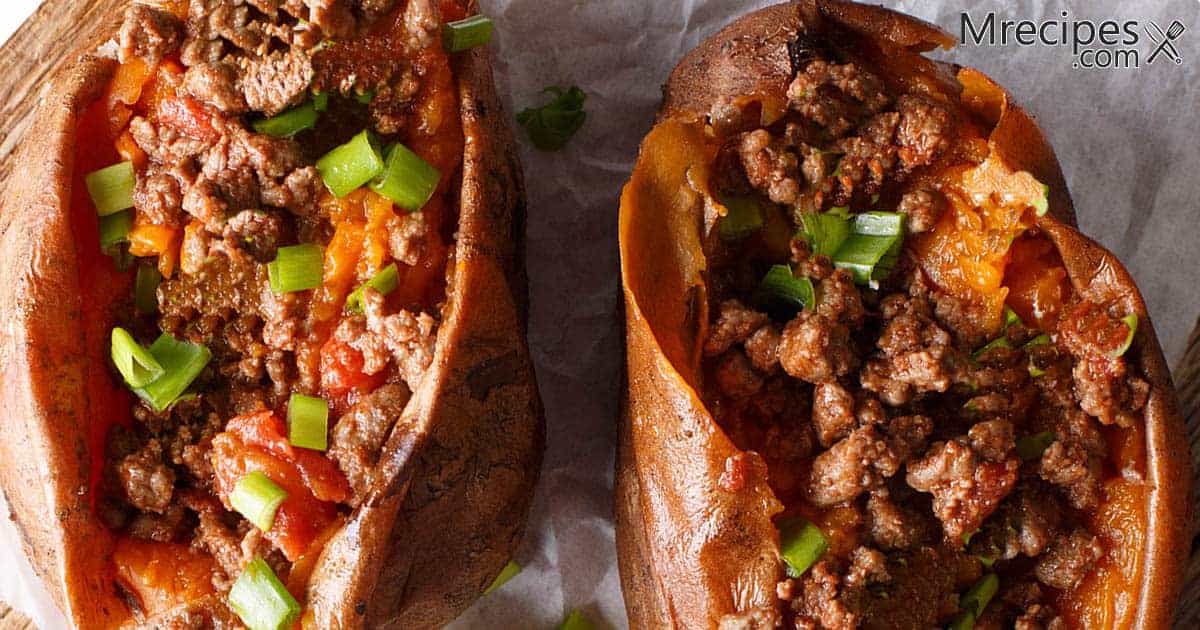 I recommend making the chili ahead of time and just warming it up before serving. This recipe is plenty for 6 potatoes, plus more to make a complete meal. Just spoon it all over the sweet potatoes and allow it to overflow. Add jalapeno cornbread to complete the dish.
Ingredients:
1 TBS canola or grapeseed oil
1 pound ground beef
1 large onion, chopped
1 green bell pepper, chopped
1 jalapeno pepper minced (remove seeds and pith for less heat)
1 garlic clove, minced
2-1/2 TBS chili powder
1 tsp cumin powder
One 28 ounce can diced tomatoes
One 8 ounce can tomato sauce
One 15 ounce can small black beans, drained and rinsed
1 tsp sea salt
1 tsp freshly ground pepper
2 cups shredded cheddar cheese
Total time: 2 hour 10 min – Prep time: 10 min – Smoke time: 2 hour – Serves: 6 people
Directions:
1. In a large skillet or Dutch oven over medium heat, warm the oil. Add the ground beef and break it up into small crumbles with a wooden spoon or a fork. Add the onion, bell pepper, jalapeno, and garlic. Cook until the meat is browned and the vegetables are slightly softened. If there is a lot of fat or moisture, drain some of it off.
2. Stir in the chili powder and cumin. Cook for 1 or 2 minutes until the spices are fragrant. Add the tomatoes and tomato sauce. Bring to a boil. Reduce the heat to low. Cover the pot and simmer for 1-1/2 hours, stirring every 10 to 15 minutes.
3. Add the beans and continue to cook for an additional 20 to 30 minutes.
4. Season with salt and pepper.
5. Place the smoked sweet potatoes in soup bowls, cut open, and spoon the chili over the potatoes and top with cheese while still warm. Serve with cornbread or tortilla chips on the side.
What to Do with Leftover Smoked Sweet Potatoes
I always cook too many sweet potatoes. I like them, but they are so filling that I have to figure out what to do with the leftovers. The skins get a little soggy when stored in the fridge, so I just remove the flesh and store that in a container until I can use it in other recipes.
I have a few favorite things to do with leftover cooked sweet potatoes. Here are some of my go-to leftover recipes.
Creamy addition to soup without dairy or flour
Sweet potato pie
Moist muffins with chopped nuts