Lamb shoulder chops are generally best cooked low and slow. One way to do this is in a Masterbuilt Smoker. It just takes a bit of preparation in advance for good results.
I happen to love the flavor and marbling of fat in this particular cut from the animal. Though, the meat can be chewy if not prepared well. To get around that, it is a good idea to brine or marinate the chops before smoking them. For the recipe here, we will brine the lamb to tenderize and impart more moisture into the meat.
How to Brine Lamb
If you enjoy the slightly gamey and sweet grassy flavor of lamb that has been foraging in a pasture, you will want to be gentle with your brine. There is no need to add a lot of aromatics to the brine solution. The purpose of the brine is really to tenderize the meat so it is less tough when smoked.
A simple brine of water and salt is just fine. You can add some brown sugar or maple syrup to the solution for an added dimension. If you are Paleo, skip the sugar and use the maple syrup. If you are Keto, skip any sweetener. You could also brine the lamb chops in part water, part buttermilk, and salt. Buttermilk is a great tenderizer, if it is on your diet.
Lamb really doesn't need to brine for a long time. I think 2 hours is fine. That said, I forgot about my lamb chops for about 4 hours and they were still fine. The flesh was starting to separate from the bone a little. That just meant that I had to push it all back together once on the smoker rack.
Best Smoke Method for Lamb Shoulder Chops
This recipe is for a Masterbuilt Electric Smoker. I did make the chops on my charcoal grill set up for indirect smoking just to see how they would turn out. They cooked in about half the time. After approximately 35 minutes, I moved the lamb over to the hot side of the grill and seared them until they came to 145°F.
The charcoal method imparted a very nice grilled char and flavor. Yet, I had to babysit the chops so they would cook evenly. I don't always have the patience to keep an eye on my grill. If you have the patience and the skill, by all means try this recipe on your offset grill or charcoal smoker.
What to Serve with Smoked Lamb Chops?
Lamb is extremely tasty all by itself. Add some smoke to that and you really have a flavor bomb. I like to choose sturdy sides to pair with smoked lamb. There is no need to be shy with your accompaniments.
The first time I made these I also smoked some sweet potatoes to have with them. That was a nice duo. I also like smoked corn on the cob or a jalapeno and cheese corn bread.
For this article, I have included a recipe for mashed celeriac, also known as celery root. Celeriac has the bold flavor of concentrated celery. It is nice to add dairy to fortify the mash and make it creamier. I have also included a recipe for braised collard greens with bacon and lemon. Collard greens are chewy, fibrous, and very nutritious. You can make your side dishes while the lamb chops are cooking in the smoker.
Smoked Lamb Shoulder Chops (Paleo, Keto, and Gluten-Free)
Ingredients:
Brine
1 quart filtered water (more if needed)
1/4 cup fine salt
2 TBS pure maple syrup (optional – not Keto compliant)
4 shoulder blade chops
Seasoning Rub
2 TBS extra virgin olive oil
2 garlic cloves, minced
1-1/2 tsps dried rosemary leaves
1-1/2 tsps dried thyme leaves
1/2 tsp freshly ground pepper
Water + dry red wine, such as cabernet sauvignon
Mild wood chips
Total time:1 hour 30 min – Prep time:15 min + brining for 2 hours – Smoke time:1 hour 15 min – Serves:4 people
Author: Nick
Directions:
1. In a large glass or plastic container, add the water, salt, and syrup. Stir until the salt has dissolved. Submerge the lamb chops in the brine. Cover the container with a lid or plastic wrap and place in the refrigerator. Allow the lamb to brine for 2 hours (longer is okay).
2. In a small bowl, mix together the olive oil, garlic, rosemary, thyme, and pepper. Set this aside.
3. Remove a rack from your smoker. Take the lamb chops out of the brine and rinse well under cold running water. Pat the chops dry with paper towels. Rub the lamb all over with the seasoning mixture. Place the chops on the smoker rack and allow them to come to room temperature for approximately 20 minutes while you prepare the smoker.
4. Fill the water bowl of the smoker half way with a combination of water and wine. Place the wood chips in the tray. Preheat the smoker with the vent open to 275°F.
5. Place the rack with the seasoned lamb chops inside the smoker and close the door. Smoke for approximately 1 to 1-1/2 hours. At 1 hour, check the internal temperature of the lamb with a digital meat thermometer. You are looking for approximately 140°F. Continue cooking until the meat comes to the desired temperature. Remember to replenish the water bowl and wood chip tray at around 45 minutes.
6. Remove the smoked lamb chops to a clean cutting board or serving platter. Cover loosely with foil and allow the chops to rest for 5 to 10 minutes before serving.
7. Serve the lamb chops with sturdy side dishes that can stand up to the smoky flavor. I like celeriac mash and braised greens with these chops. You could also smoke some ears of corn or sweet potatoes on the rack above the lamb.
Mashed Celeriac (Keto and Gluten-Free)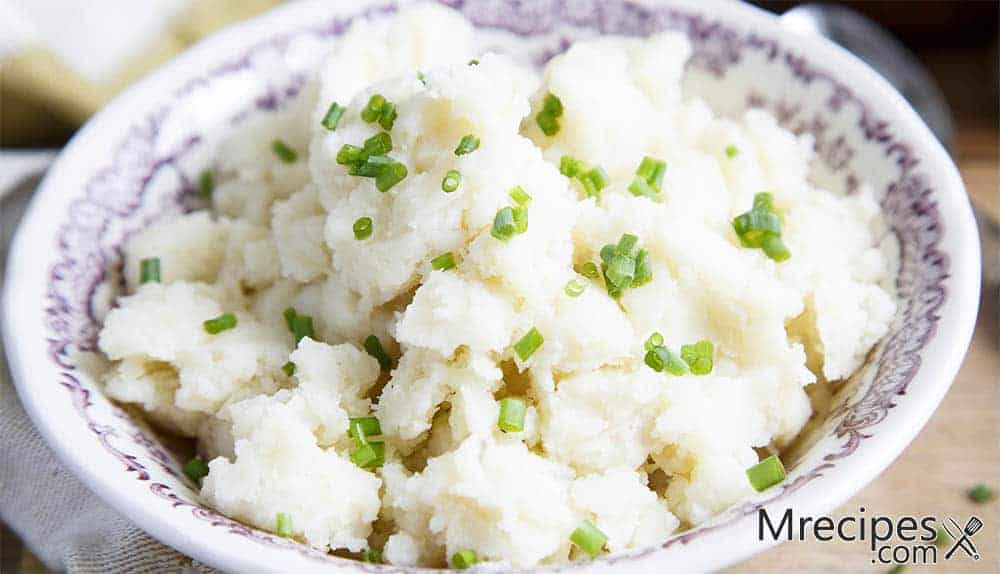 Ingredients:
1 large celeriac (celery root)
1-1/2 TBS butter
1/3 cup heavy cream or sour cream
1/4 tsp sea salt
2 tsps minced parsley
Total time: 45 minutes – Prep time: 15 minutes – Cook time: 30 minutes – Serves: 4 people
Directions:
1. Fill a large pot half way with water.
2. Peel the celeriac and slice one end off so it will stand upright. Dice into 1 inch cubes. Place the cubes directly into the pot of water.
3. Turn the heat to high and bring the water to a boil. Reduce the heat to medium-low. Simmer until tender, approximately 25 minutes until the celeriac is fork tender.
4. Drain the cooked celeriac in a colander and place the cubes back in the pot over low heat. Add the butter, cream or sour cream, and salt. Mash everything with a potato masher. Stir in the fresh parsley.
5. Place the celeriac mash in a serving bowl and serve while warm.
Braised Collard Greens (Paleo, Keto, and Gluten-Free)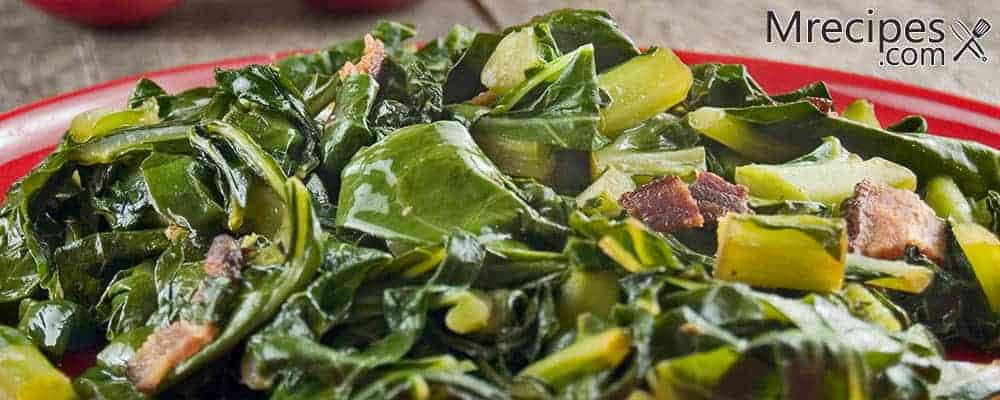 Collard greens are the perfect fiber and texture for this braising recipe. If you can't find collards, try these: kale, mustard greens, or beet greens. Swiss chard is okay too, but the timing might be less because it is a more tender and less strongly flavored green.
Ingredients:
2 slices of bacon, cut into 1/2 inch pieces
1/8 tsp cayenne pepper flakes (optional)
2 garlic cloves, minced
Zest and juice of 1 lemon
1 large bunch cleaned collard greens, stemmed and sliced into 1 inch strips
1/2 cup chicken stock
1/2 cup water
Salt and freshly ground pepper to taste
Total time: 55 minutes – Prep time: 5 minutes – Cook time: 50 minutes – Serves: 4 people
Directions:
1. In a large skillet or Dutch oven over medium-high heat, cook the bacon slices until crisp. Remove the bacon to paper towels, leaving the fat in the pot. Add the cayenne, garlic, and lemon zest to the bacon fat. Sauté until everything is just slightly cooked and fragrant. Add the collard greens and cook until they begin to wilt.
2. Stir in the stock and water. As soon as this starts to boil, turn the heat to a low simmer and cover the pot. Braise the greens until tender, approximately 35 minutes.
3. Uncover the pot and bring the heat back up to medium-high. Add the bacon and cook until the stock and water have reduced by about half, approximately 2 minutes. There should still be a good amount of moisture remining. Add the lemon juice and warm through. Season with salt and pepper to your liking.
4. Using a slotted spoon, transfer the greens to a serving bowl. Spoon as much broth as you would like over the greens. Serve while warm.