We have all seen smoked cheeses in the grocery store dairy section. These are the cheeses that have a distinct light brown shell and a noticeable pale brown smoke ring when sliced open. The most common smoked cheeses in the store are Gouda and mozzarella. But, you don't have to stop there. Almost any cheese can be smoked, as you will find in artisanal cheese shops. Some of these other cheeses that smoke very well are cheddar, Swiss, pepper jack, halloumi, and Manchego.
The key to smoking cheese is to use a cold smoke method where the temperature does not exceed 90°F. Anything higher than that and the cheese is going to melt. Some smoking aficionados are pretty adamant that cheese be smoked in cool or cold weather so that the ambient temperature around the smoker helps to keep the internal temperature low. That is not practical in warmer climates, so place your smoker in a shaded area if possible. Any Masterbuilt Smoker that has reliable temperature control will work.
Choosing the right wood chips is also important. Mesquite and hickory can overpower the cheese by imparting too much flavor. It might be better to go with alder, maple, or even a fruit wood for a mellower smoke.
It is suggested that cheese be placed on a mesh style wire rack, such as the ones that fit inside a sheet pan. You can place that directly on top of the smoker's wire rack. This allows for a uniform appearance rather than grill marks. This is an especially good idea if you are planning on gifting your beautiful smoked cheese around the holidays. The exception I would make is when smoking halloumi. Halloumi is also referred to as "grilling cheese" and grill marks are expected. Don't worry if you don't have a mesh rack. The smoker rack works fine.
Smoked cheese makes a great addition to cured meat, cheese, and fruit platters. It can also be used in classic cheese dishes to add a smoky flavor, such as macaroni and cheese or fondue. Smoked cheese pairs nicely with full bodied, rich, and fruity wines, such as an oaked Chardonnay, a Malbec, or even a dessert Sauterne.
Before smoking cheese, make sure the smoker racks are clean of any fish or meat residue. And, leave the cheese in the refrigerator until ready to place in the smoker. I like it to be cold, but not frozen. This is a personal preference as it helps to bring the heat of the smoker down a bit for the first phase of the process.
Smoking Hard and Semi-hard Cheeses
Ingredients:
4 eight ounce blocks of cheese: sharp cheddar, Manchego, gruyere, halloumi, or all four
Total time: 3 hour 5 min – Prep time: 5 min – Smoke time: 2 to 4 hour – Serves: 14 people
Directions:
1. Keep the cheese refrigerated while setting up your smoker. Preheat your smoker to between 75°F and 85°F with the vent open. Place wood chips in the side tray and cold water in the bowl.
2. Place the blocks of cold cheese on a mesh wire rack and place that on a rack inside the smoker. Alternatively, place the cheese directly on the smoker rack. Cold smoke for 2 hours, turning over once or twice. Check for a slight bronze color and taste to see if the cheese has adequate smoke flavor. Continue to smoke for up to 4 hours if desired.
3. Remove the smoked cheese from the smoker and allow it to rest on a rack for approximately 1 hour. If there is a film of oil on the cheese you can blot that off with a paper towel. When the cheese has rested, seal it in plastic wrap or butcher's paper. Place this in the cheese drawer of your refrigerator and leave alone for approximately 7 days for the smoke flavor to mature.
Smoked Cheddar Cheese and Ale Soup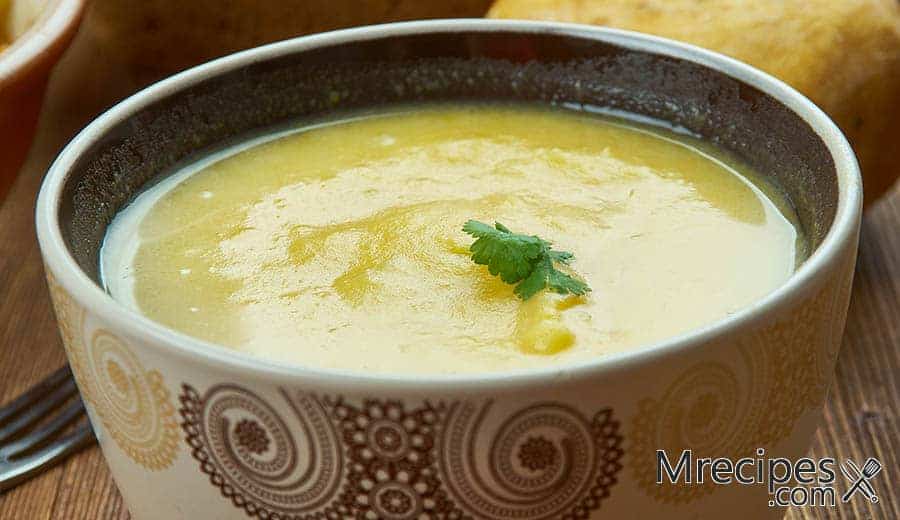 Ingredients:
3 strips of bacon cut into 1/2 inch pieces
1 large sweet onion, chopped
1 celery stalk, diced
3 cloves of garlic, minced
2 TBS chopped fresh thyme
1 bottle flavored ale, such as pumpkin
2 cups chicken broth
3 TBS butter
4 TBS flour
1 cup heavy cream
6 ounces smoked cheddar cheese, shredded
6 ounces sharp cheddar cheese, shredded
Sea salt and freshly cracked pepper to taste
1/4 teaspoon ground nutmeg
Total time: 35 min – Prep time: 10 min – Smoke time: 25 min – Serves: 6 people
Directions:
1. In a large stock pot, cook the bacon over medium-high heat until crispy. Remove the bacon to drain on paper towels. Drain all but 2 tablespoons of the bacon fat. Add the onion and celery to the pot and cook until soft. Stir in the garlic and thyme and cook for 1 minute longer.
2. Add the ale and reduce by half for approximately 15 minutes. Stir in the chicken broth and bring to a boil. Turn the heat down to a low simmer.
3. In a small saucepan, melt the butter over low heat and whisk in the flour. Cook until just golden brown, whisking often. Add the roux to the soup, whisking until well incorporated. Continue cooking the soup until it begins to thicken. Slowly add the cream and cheese to the soup, stirring until blended and smooth.
4. Add the bacon, salt and pepper to taste, and the nutmeg. Serve while hot.
Spanish Tortilla with Smoked Manchego Cheese
Ingredients:
3 TBS good extra virgin olive oil (EVOO
2 lbs russet potatoes
2 tsps sea salt
1 yellow onion
1 TBS unsalted butter
8 large whole eggs
3 TBS heavy cream
1/3 cup grated smoked Manchego cheese
Total time: 35 min – Prep time: 15 min – Smoke time: 20 min – Serves: 4 people
Directions:
1. Wash and peel the potatoes. Slice them into thin 1/8 inch thick rounds. Cut the onion in half and remove the skin. Slice thinly. Grate the cheese.
2. In a 12 inch non-stick skillet, heat the EVOO over medium-high heat. Add the potatoes and 1 teaspoon of the salt. Cook until the edges of the potatoes appear transparent, approximately 6 minutes. Stir in the onions and cook for 1 minute. Reduce the heat to medium and sauté until the potatoes and onions are tender and gently browned, approximately 7 minutes.
3. While the potatoes and onions are cooking, break the eggs into a large bowl. Add the cream and remaining salt. Whisk together until completely combined.
4. Stir the butter into the potatoes and onions until it melts. Pour the egg and cream mixture over the potatoes. Add the cheese to the top of the eggs and cook until the eggs are just set, approximately 1-1/2 minutes. Using a heat-proof silicone or rubber spatula, gently push the eggs toward the center of the skillet so the raw eggs on top run under the cooked eggs to the bottom of the skillet. Continue to cook for approximately 2-1/2 minutes until the eggs are set on the bottom and no longer liquid on the top.
5. Place a 12 inch or larger flat round plate on top of the skillet. Carefully flip the skillet and plate over and lift the skillet off so that the tortilla rests on the plate. Slide the upside down tortilla back into the warm skillet and continue to cook 2 minutes until the eggs are completely cooked through but still slightly soft.
6. Slide the tortilla onto a plate and slice it into serving wedges. This dish is commonly served at room temperature or even cold. It makes for a great picnic dish.
Smoked Gruyere Cheese Fondue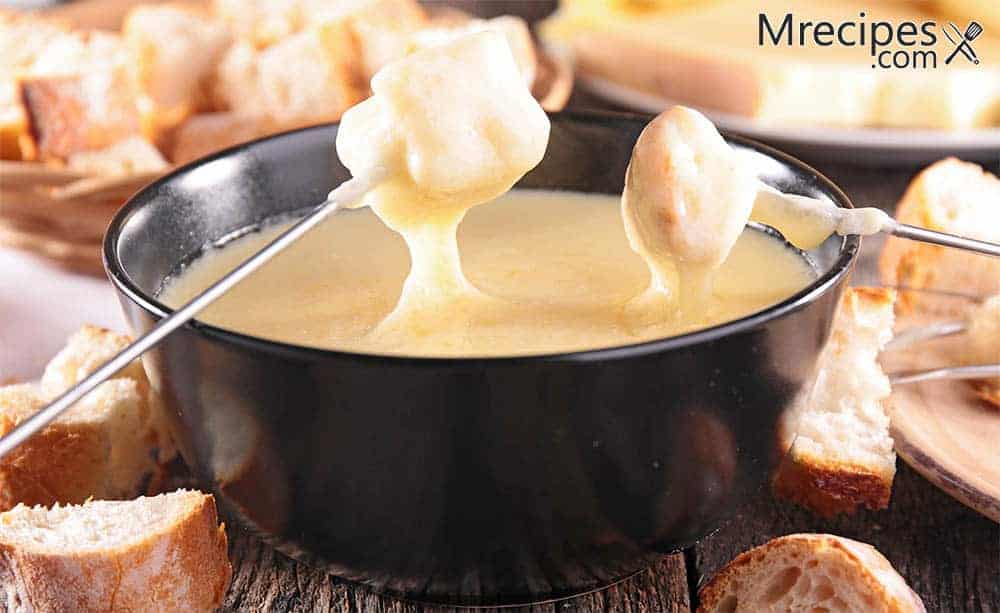 Ingredients:
12 ounces smoked gruyere cheese, cubed
12 ounces gouda or edam cheese, cubed
2 TBS corn starch
1/2 tsp dried mustard
1/4 tsp cayenne pepper
1-1/2 cups dry white wine, such as Sauvignon Blanc
1 TBS kirsch (cherry brandy), or any brandy you have on hand
Freshly grated nutmeg
Finely cracked black pepper
Crusty bread cubes
Granny Smith apple cubes
Fully cooked bratwurst or sausage slices
Total time: 30 min – Prep time: 10 min – Smoke time: 20 min – Serves: 6 people
Directions:
1. In a large bowl, place the cheese, cornstarch, mustard, and cayenne. Toss all together to coat the cheese.
2. In a fondue pot, pour the wine and kirsch. Place over a heat source, such as sterno, or a stove burner on medium-low. When the liquid starts to bubble and simmer, begin adding the cheese by the handful, stirring until melted and combined. Season with a small amount of nutmeg and pepper. Keep over low heat while serving, or reheat as needed.
3. Serve the fondue with fondue forks and a platter of bread, apples, and sausages.
Serving Suggestions for Smoked Halloumi
Halloumi is a dense and salty cheese that is most popular in Greece and the Middle East. It is a bit of an acquired taste and texture for those of us in North America and Northern Europe. It is often grilled right before serving to soften it up a bit.
Smoked halloumi pairs nicely with sweet and sour accompaniments. It is good in a watermelon salad. It is also tasty when breaded, fried, and served with plain yogurt and a drizzle of honey. Halloumi fries are quite a popular snack or fast food.
You can serve halloumi as part of a dessert cheese platter with grapes, orange or grapefruit segments, and figs. Or, use it on a sandwich that has some sweet and sour pickle chips and fresh tomatoes.