Salsa is one of those go-staples for when guests are coming over for an informal visit or for a backyard lunch or dinner. I will often make a fresh batch of salsa to take to the beach for a family and friends picnic. It keeps well and travels easily in a small cooler.
I sometimes keep a jar of tomato salsa in my pantry or fridge, along with some tortilla chips, for those impromptu visitors. However, the jarred salsa really doesn't compare to the freshness and flavor of homemade.
A great way to enhance the flavors and take salsa up a notch is to first smoke the vegetables and fruits in my Masterbuilt Smoker. You don't need to really cook the produce all the way through. They just need a decent amount of smokiness. This can be achieved in as little as 60 minutes of smoke time.
What Fruits and Vegetables to Smoke for Salsa?
I don't smoke everything that goes into the salsa. I keep some of the tomatoes fresh and unsmoked. I also don't smoke the herbs. It is nice to have a little bit of crisp, fresh texture to give more body to the salsa. You can add the herbs and other fresh ingredients right before serving if preferred.
I recommend chilling the fruits and veggies after you smoke them. Salsa is best when cool, in my opinion. Here are some different items you can add to your salsa:
Vegetables and Aromatics
Onions
Garlic
Corn kernels
Scallions
Fruits
Tomatoes
Jalapeño peppers
Lime (smoked or not)
Pineapple chunks
Mango
Avocado
Tomatillos
Legumes
Herbs and Spices
Fresh cilantro
Ground cumin
Chili powder
Cayenne flakes
Salt and pepper
I don't use all of these in one salsa. And, as mentioned previously, I don't smoke everything. It often depends on who I am serving salsa to. For kids, I will use green bell peppers instead of hot peppers and often add a little sweet fruit.
Adults can generally tolerate the heat and don't always go for salsa with pineapple or mango. I do notice that my adult friends and family like the addition of avocado for a creamy texture. Or, add smoked corn kernels right off the cob for a crunchy texture and a little sweetness.
If you are feeding a crowd, I suggest adding some small-sized beans to stretch the salsa while not breaking the bank. A can of black turtle beans is 99 cents and they are really nice in a tomato-based salsa.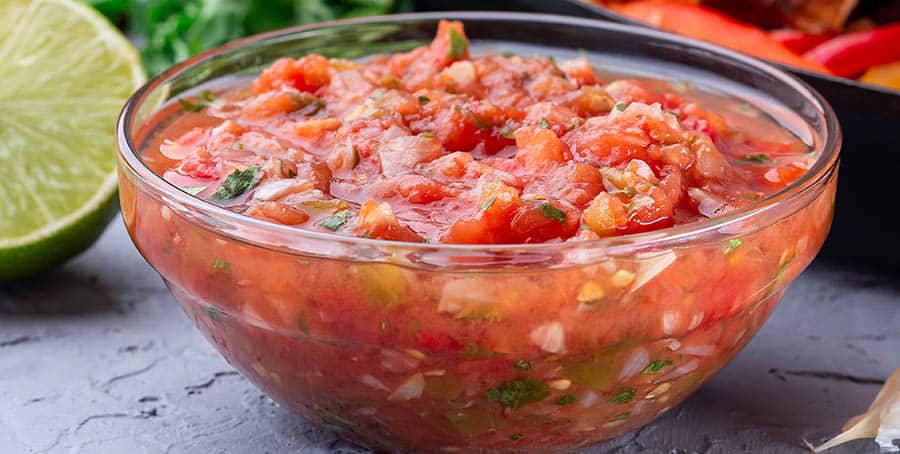 Smoky Tomato Salsa Recipe (Vegan, Gluten-Free, Paleo, Keto)
Ingredients:
3 ripe beefsteak tomatoes
1 large red onion
1 green bell pepper
3 to 5 jalapeño peppers
1 whole garlic bulb
1 tsp extra virgin olive oil
1 lime
1 bunch of fresh cilantro, washed
1/2 tsp ground cumin
1/2 tsp sea salt
1/2 tsp cracked black pepper
Wood chips
Water
Total time:1 hour 45 min – Prep time:15 min – Smoke time:1 hour 30 min – Serves:6 people
Author: Diana
Directions:
1. Prepare your Masterbuilt smoker. For electric and propane, fill the tray with wood chips and fill the water bowl halfway with water. For charcoal, set up the smoker for indirect heat and add the wood chips as directed. Close the smoker. Open the top vent and preheat at 225°F for approximately 5 minutes.
2. Cut 2 of the tomatoes, the onion, the bell pepper, and the jalapeño peppers in half. Slice the top off the garlic bulb and drizzle some olive oil on the cut face. Set the 3rd tomato aside.
3. Place all the vegetables, fruits, and aromatics, cut side up, on a smoker rack. Smoke for 60 to 120 minutes, depending on how much smokey flavor you like. Remember to replenish the wood chips and water as needed. Tip: you may want to place a foil-lined sheet pan on the rack below the produce to catch any drips.
4. Remove the smoked vegetables, fruits, and aromatics from the smoker and allow them to cool.
5. Once the produce is cool enough to handle, peel the skins from the tomatoes, onions, and garlic. Remove the seeds and stems from the peppers. Or, leave the seeds in the jalapeños for extra heat. If feeling adventurous, remove the skin from the one fresh remaining tomato. Cut everything into medium-sized chunks.
6. Place the smoked produce, with just as much of the garlic as you like, into a food processor. Add the juice of the lime, cilantro, cumin, salt, and pepper to the processor. Process until the desired consistency is achieved – chunky or smooth. Tip: Use any extra garlic to spread on toasted baguette slices for dipping in the salsa.
7. Remove the salsa from the food processor to a storage container using a slotted spoon to leave behind any excess liquid. Season again to taste if needed. Cover the salsa and store it in the refrigerator until ready to serve.
Below are some ideas for serving smoked salsa.
What to Serve with Smoked Salsa?
I am a bit old school when it comes to serving salsa. I enjoy it with just salty corn tortilla chips or cassava flour chips for a grain-free day. However, I will top a Tex-Mex salad with salsa, sour cream, and crushed chips. I also always have salsa, beans, and melted cheese as part of my homemade nacho platter. We make nachos a lot for a quick and filling lunch. Salsa can be used as a condiment for grilled chicken or blackened fish. And of course, it is perfect for tacos and fajitas.
The kids go bonkers for a Mexican-style 7 layer dip with corn chips. Here are the layers I like, in this order:
Refried beans
Sour cream (sometimes mixed with cream cheese)
Guacamole
Salsa (drained)
Shredded Mexican cheese blend
Scallions (green parts)
Black olives (chopped)
If I want a more substantial dip, I will add a layer of cooked ground beef or finely shredded grilled chicken breast that has been generously seasoned with chili powder and cumin.