Have you ever purchased, or been gifted, one of those beautiful cured spiral hams with the bone-in? The flesh is pink and salty while the outer layer is sweet caramelized honey with a little crunch. The combination of salt and sweetness is addictive.
In our home, we had one of these hams every Easter holiday and sometimes at Christmas. Despite being a large family, we barely made a dent in the massive ham. We dealt with the leftovers in 3 ways: ham slices crisped up on the flat top with fried eggs and English muffins, a giant pot of split pea soup with diced ham, and a bubbling hot casserole with potatoes, ham, and lots of cheese.
The casserole was always a hit. It was baked in the oven until bubbling hot. You can also cook this in a smoker to add another dimension to the layers of flavor.
Tips to Smoking a Casserole Properly
Cooking a casserole in your smoker is an awesome way to infuse more flavor into the dish. This especially works well with casseroles that have cheese. Set the smoker the same as you would your oven to 350°F. This will ensure that the cheese melts and is full of smoky goodness.
You will likely want to smoke other things to accompany this casserole, such as asparagus and green beans. These vegetables generally smoke well at a lower temperature. They will take less time than the casserole if smoked at 350°F. I would say not to place them in the smoker until 30 minutes have passed.
If animal proteins are on the menu, make sure the casserole is placed on the rack above them so the raw juices don't drip into the casserole. I have heard some people say to place the casserole below the meat so it can benefit from the flavor of the dripping juices. I definitely don't recommend that.
It is a good idea to keep a supply of disposable foil baking or roasting pans on hand for smoking casseroles and for easy cleanup. A 3 quart baking pan, approximately 9 by 13 inch, works well with this recipe. Double the recipe for two casseroles and freeze one for a hardy winter meal.
Smoked Potato, Ham, and Cheese Casserole Recipe
Ingredients:
2 pounds Yukon gold potatoes, washed well
1-1/2 cups chopped yellow onions
1 tsp sea salt
4 TBS butter
1 TBS olive oil
5 TBS all-purpose flour
2-1/2 cups whole milk
2 TBS Worcestershire sauce
1/2 tsp whole grain mustard
1 tsp sea salt
1/2 tsp freshly ground pepper
1/4 tsp paprika
Vegetable or olive oil
2 cups shredded mild cheddar cheese
2 cups diced cooked ham
1/2 cup breadcrumbs
3 TBS cold butter, diced
Water and 2 TBS apple cider vinegar
Wood chips, such as apple or pecan
Total time:1 hour 20 min – Prep time:20 min – Smoke time:1 hour – Serves:6 people
Author: Diana
Directions:
1. Wash the potatoes well. Peel them and dice into 1/2 inch cubes. Place the potatoes in a large saucepot and cover with water. Season with 1 teaspoon of salt. Turn the heat to high. As soon as the water boils, reduce the heat to medium-low, add the onions, and cover the pot. Cook until the potatoes are just tender when pierced with a fork, approximately 12 minutes.
2. Drain the potatoes and onions in a colander and set aside while you preheat the smoker and make the sauce.
3. Fill the water bowl of your smoker half way with water and apple cider vinegar. Place the wood chips in the tray. Open the top vent. Preheat your smoker to 350°F.
4. In a medium saucepan over medium heat, melt the butter with the olive oil. Add the flour and whisk until smooth. Continue to cook, whisking constantly, for 2 minutes until slightly thickened. Gradually whisk the milk into the roux. Add the Worcestershire sauce, mustard, salt, pepper, and paprika. Keep cooking and whisking until creamy and thickened but still pourable.
5. Spray or brush a 9 x 13 inch aluminum foil baking pan with vegetable oil. Place half of the cooked potatoes and onions in the pan. Cover the potatoes with half of the cheese. Spread all the ham on top of the cheese. Cover with the remaining potatoes.
6. Pour or ladle the white sauce evenly over the potatoes, ham, and cheese. Add another layer of the remaining cheese over the top. Sprinkle evenly with bread crumbs. Then, dot the top with the diced butter. If freezing a casserole, leave the breadcrumbs and butter off until right before smoking.
7. Place the casserole in the preheated smoker and cook until it is hot and bubbling, approximately 1 hour.
Note: If your smoker does not go as high as 350°F, just cook a bit longer.
8. Allow the casserole to sit for 5 minutes before serving. Spoon into bowls or onto plates and enjoy while still warm.
What Goes with Potato, Ham, and Cheese Casserole?
This casserole is definitely a main dish. It is hardy and filling. I have been known to add a little tomato sauce or diced tomatoes to this casserole sometimes. I think a side salad of tomatoes works even better to compliment this casserole. I would also add a side of grilled or smoked fresh vegetables.
Here is a super easy recipe for tomato salad that you can assemble with the casserole is smoking. Just cover it and store in the refrigerator until ready to serve.
Easy Cherry Tomato Salad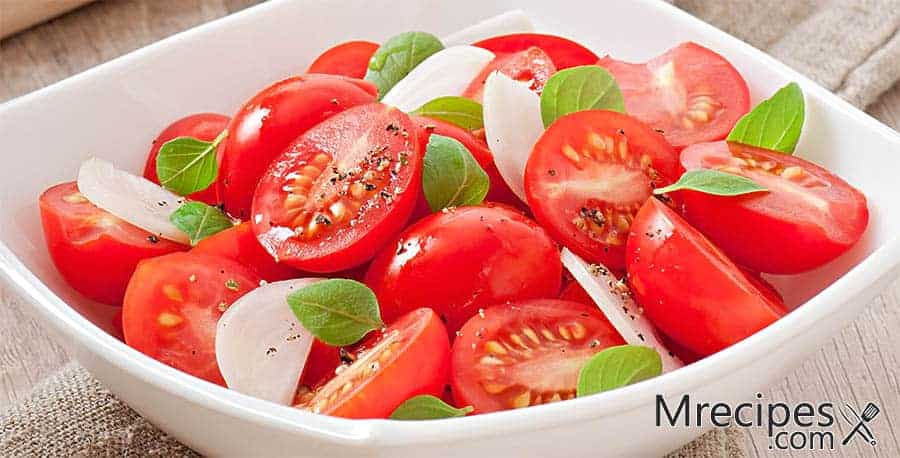 Ingredients:
2 TBS extra virgin olive oil
2 tsps fresh lemon juice
2 tsps Dijon mustard
1/2 tsp coarse salt
1/2 tsp freshly ground black pepper
4 pints cherry tomatoes
8 basil leaves
Total time: 10 min – Serves: 8 people
Directions:
1. In a small mixing bowl, whisk together the olive oil, lemon juice, and mustard. Season with salt and pepper. Set aside.
2. Slice the tomatoes in half and place them in a serving bowl. Dress and toss the tomatoes with the vinaigrette.
3. Roll the basil leaves together and slice into thin ribbons. Place the basil on the salad and toss gently.
4. Serve right away, or cover and refrigerate until your casserole is ready.