The shoulder portion of a pig or hog is one of the best tasting cuts of meat, especially when cooked low and slow. It is also referred to as the butt. That is a misnomer, as it is from the front upper leg area of the animal. You may also see this cut labeled as a picnic roast.
A bone-in roast is a great choice because the bone imparts tons of flavor while smoking. If you choose to smoke a boneless roast for this recipe it will likely take less time, so be mindful of that. There may be a good sized fat cap on the roast. I recommend removing all but 1/4 inch of the cap. This will help the rub to penetrate the flesh better. You can ask your butcher to trim the fat for you.
You can smoke a pork shoulder in a charcoal smoker. However, using a Masterbuilt Electric Smoker makes better sense so you don't have to nurse coals all day. An electric smoker will maintain a consistent temperature for many hours.
While this recipe does not call for brining the shoulder, you still need to allow for a couple of days to complete the process. The rub needs some time to work its magic on the roast before smoking. It acts as a dry brine.
This recipe is for an 8 pound roast and should feed 12 people, maybe more. Adjust the rub amount and cook time for a smaller or larger shoulder. You are looking to smoke for approximately 1 hour per pound.
Smoked, Dry Rubbed Pork Shoulder Recipe
Ingredients:
8 Lb bone-in pork shoulder roast, trimmed of some fat
1/2 cup paprika
1/4 cup packed light brown sugar
4 tsps kosher salt
2 tsps celery salt
2 tsps freshly cracked black pepper
2 tsps garlic powder
2 tsps onion powder
2 tsps dry mustard
1/2 tsp cayenne pepper
Hickory wood chips, or your favorite
Apple cider vinegar
Total time:8 hour 20 min – Prep time:20 min – Smoke time:8 hour – Serves:12 people
Author: Nick
Directions:
1. Place the dry rub ingredients in a bowl and whisk to combine.
2. Rinse the roast under cold running water and pat completely dry with plenty of paper towels. Place the roast inside a disposable foil pan. Generously apply the dry rub to all surfaces of the roast using your hands to pat it into the meat. Cover the pan tightly with plastic wrap or aluminum foil. Place the pan in the refrigerator for 8 hours or overnight.
3. Remove the seasoned roast from the refrigerator an hour before smoking so that it can come to room temperature. After it has rested for an hour, remove the wrap and pour off any of the accumulated liquid in the bottom of the pan.
4. Prepare the smoker. Add the wood chips to the side tray. Fill the water pan half way with a combination of water and apple cider vinegar. Open the top vent and preheat the smoker to 225°F.
5. Place the roast directly on the upper rack of the smoker. Thoroughly wash out the disposable pan and place it on the rack below the roast to catch any fat drippings. If your smoker has a meat thermometer attached, insert it into the roast at the thickest portion. Smoke for approximately 8 hours. Replenish the wood chips and liquid approximately every 60 minutes.
6. At 8 hours, check the temperature of the meat. You are looking for an internal temperature of 190°F. If it isn't quite up to temperature remove the pan of drippings and place the butt inside the pan. Cover this with new aluminum foil and place the roast back in the smoker until it reaches the desired temperature, approximately 1 hour more.
7. Remove the cooked roast to a clean cutting board, tent with foil, and allow it to rest for at least 20 to 30 minutes until cool enough to handle and to be able to remove the bone.
8. While the pork is smoking make your side dishes. Some ideas include smoked macaroni and cheese, applesauce, and braised collard greens.
9. After the pork has cooled just enough to handle, slice thinly and serve with sauce (see mole recipe below) and sides. Alternatively, shred the meat using 2 forks and serve in taco shells or soft tortillas with sauce and slaw. The taco recipe follows.
Smoked Pork Tacos with Quick Mole Sauce and Spicy Slaw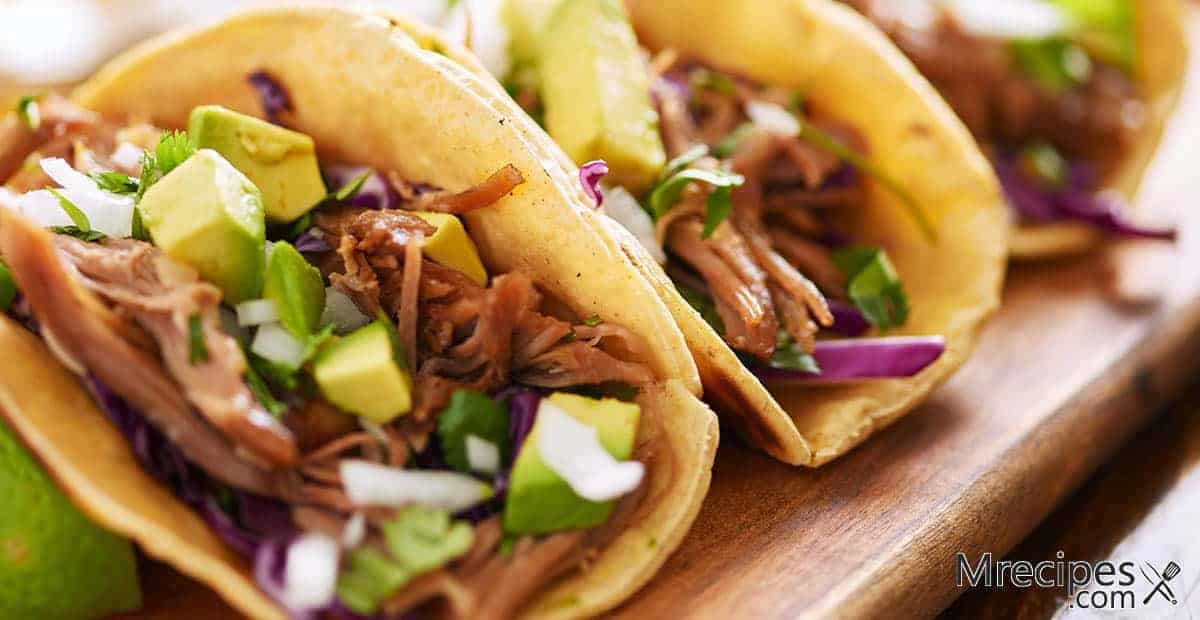 Ingredients:
Shredded pork from the recipe above
24 soft tortillas: corn, flour, or cassava
Slaw
1/2 cup mayonnaise
1/3 cup unfiltered apple cider vinegar
3 TBS extra virgin olive oil (EVOO)
2 tsps celery salt
2 tsps fresh cracked black pepper
1 tsp raw or turbinado sugar
1 head of green cabbage, shredded
6 scallions coarsely chopped
2 to 4 jalapeno peppers, seeds removed and julienned
2 carrots, shredded
1 TBS of fresh cilantro, minced
Mole
1 large yellow onion, minced
4 garlic cloves, minced
2 TBS extra virgin olive oil (EVOO)
1 or 2 chipotle chiles, hydrated and minced (adjust for desired heat level)
1 TBS ground cumin
1 tsp cinnamon
1 tsp dried oregano
4 TBS adobo sauce
2 cups tomato puree
1/3 cup grated dark, not bitter, chocolate
Salt and pepper to taste
Total time: 45 min – Prep time: 30 min – Cook time: 15 min – Serves: 12 people
Directions for Spicy Slaw:
1. In a large bowl, whisk together the mayonnaise, vinegar, EVOO, celery salt, pepper, and sugar until smooth.
2. Add the cabbage, carrots, jalapenos, scallions, and cilantro to the dressing and toss well to coat everything evenly. Don't be afraid to use clean hands.
3. Cover the slaw and refrigerate while you make the mole and until you are ready to assemble the tacos.
Directions for Mole Sauce:
1. In a sauce pot, sauté the onion and garlic in EVOO over medium heat until soft. Add the chiles, cumin, cinnamon, and oregano and heat through until just fragrant.
2. Add the adobo sauce, tomato puree, and dark chocolate to the pot. Stir until the chocolate has dissolved. Lower the heat and simmer, covered, for 5 to 8 minutes. Season with salt and pepper to taste.
3. Toss the sauce with shredded pulled pork.
Assemble the Tacos:
1. Heat the tortillas lightly on a griddle or in a sauté pan. Remove to a clean dish towel and wrap to keep warm.
2. Fill the tortillas with some of the dressed pork. Top with the slaw. Fold and eat with your hands and plenty of napkins.