Making pastrami from scratch is not a difficult process. However, it does take some time, a full week to be precise. The process starts with a raw beef brisket. The brisket is cut from the muscular breast area of the steer. It is a tougher piece of meat than some other cuts of beef. It requires low and slow cooking, best achieved in a Masterbuilt Electric Smoker. It can also benefit from brining prior to smoking. Brining imparts flavor and softens the muscle fibers.
Brining beef brisket in a saltwater solution is the method used for making corned beef. Corned beef is the basis for making the classic deli meat known as pastrami. Once brined, the meat is then rubbed with a spice mixture and smoked for a long time until tender.
The brining process takes 6 days for optimal results. The good news is that you only have to tend to the beef for less than a minute a day during the process. If you are intimidated by this step of the recipe, or simply don't have the time or the room in your fridge, then feel free to use a store-bought corned beef. Here is a recipe for making pastrami from a packaged corned beef brisket with a pastrami rub.
The reason I recommend using an electric smoker is because the temperature is consistent. You can certainly use propane with a similar outcome. A charcoal grill or smoker is just fine as well, as long as you tend to the fire throughout the day. I find that a charcoal smoker sometimes takes less time than an electric or propane.
The recipe described here is for making pastrami from start to finish. Followed by that is a recipe for using pastrami in a classic sandwich and a few ideas for making good use of leftover pastrami.
Smoked Pastrami Recipe
Ingredients:
One 4 to 5 pound flat beef brisket
Brine
1 gallon filtered water
1 cup kosher salt
1/4 cup brown sugar
1 small onion cut in half
2 garlic cloves smashed
1 TBS whole peppercorns
2 bay leaves
1 tsp pink salt or Prague powder
Dry Rub
1/3 cup coarsely cracked black peppercorns
1/4 cup coarsely cracked coriander seeds
2 TBS mustard seeds
1 TBS brown sugar
1 TBS paprika
1 tsp ground ginger
Wood chips, such as maple, oak, or hickory
Water
Total time:8 hour 20 min – Prep time:20 min + 6 days for curing – Smoke time:8 hour + 1 hours for resting – Serves:6 people
Author: Nick
Directions:
1. Rinse the brisket under cold running water and pat dry with paper towels. Trim all but 1/4 inch of the fat cap off. Remove any stringy silver skin from the flesh side.
2. In a pot over medium-high, place 4 cups of the water, the salt, and the sugar. Bring to a boil and stir to dissolve the salt and sugar. Allow this to cool. In a large container with a lid place the salted water, remaining water, onion, garlic, peppercorns, bay leaves, and pink salt. Submerge the brisket in the brine. Cover and refrigerate for 6 days, turning once a day for even brining.
3. The morning of day 6 remove the brisket from the brine. Discard the brine. Rinse the brisket very well under cold running water to remove much of the salt. Pat the meat dry with paper towels. Place the brisket on a sheet tray and set aside to come to room temperature.
4. In a medium bowl, whisk together all of the dry rub ingredients. Coat the entire brisket with the rub and press it into the meat with your hands.
5. Fill the bowl of your smoker halfway with water. Add wood chips to the side tray. Preheat the smoker to 225°F with the top vent open.
6. Place the brisket, fat side up, on a rack inside the smoker. Smoke the brisket until a dark crust forms and the internal temperature reads between 175°F and 185°F, approximately 6 to 7 hours. Replenish the wood chips and water approximately every 60 minutes.
7. Wrap the brisket in aluminum foil or 2 layers of butcher's paper and continue to smoke to an internal temperature of 190°F to 195°F, approximately 1 to 2 more hours. Check with a reliable digital meat thermometer or the probe thermometer that is attached to your smoker.
8. Transfer the cooked and covered pastrami to a cutting board and allow to rest for 1 to 2 hours. Slice thinly against the grain. Serve with cole slaw and pickles or make into a pastrami melt sandwich. (Recipe follows).
Pastrami Melt Sandwich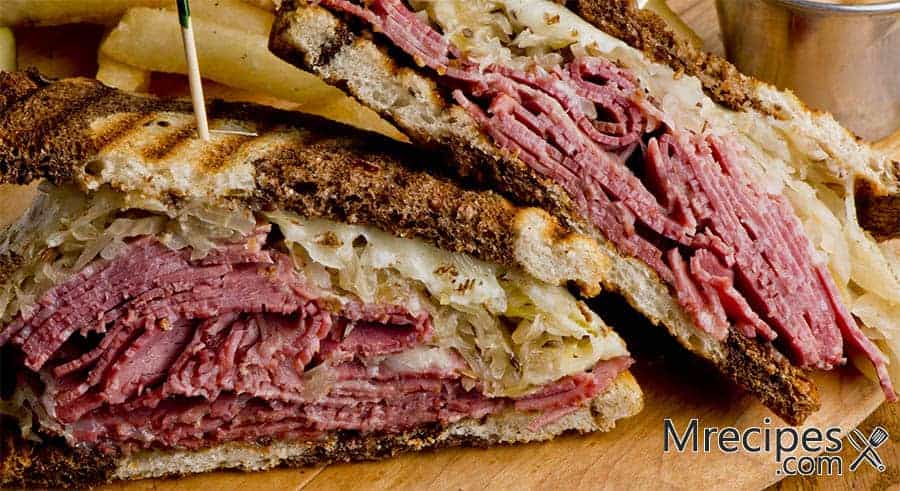 Ingredients:
8 slices marbled rye bread
Grainy mustard
4 TBS softened butter
16 thin slices of pastrami
1 cup drained sauerkraut
4 slices Swiss cheese
Total time: 13 min – Prep time: 10 min – Cook time: 3 min – Serves: 4 people
Directions:
1. Preheat your Panini press or contract grill to medium high for 5 minutes with the top closed.
2. Butter 1 face of each of the bread slices. Turn 4 slices over so that the unbuttered side faces up. Spread this face with mustard.
3. Place 4 slices of pastrami on each of the 4 slices of bread with mustard. Top with 1/4 cup of sauerkraut. Add a slice of cheese. Place the other piece of bread, buttered side up, on the top of the sandwich.
4. Grill the sandwiches in a preheated Panini press or contact grill for approximately 3 minutes until golden brown and the cheese has melted. You can also heat these in a hot grill pan, turning once to grill both sides, approximately 5 to 6 minutes.
5. Cut the sandwiches in half and serve with dill pickle spears and chips.
Ideas for Leftover Pastrami
Chances are you might have some leftover pastrami when you smoke a 5 pound or larger brisket. If you don't really want to make more sandwiches, then you could try some popular recipes and restaurant fare for creatively using pastrami. Here are some ideas:
Pastrami Hash is delicious with runny poached eggs. You can make it just like you would corned beef hash. All you need to do is sauté some diced onions, diced bell peppers, and cubed cooked potatoes in butter and oil. Add cubed pastrami, salt, and pepper and heat through until browned and warm. Serve with a soft poached egg on top.
Eggrolls can be made New York deli style by rolling up wonton wrappers filled with julienned pastrami and grilled onions or sauerkraut. Deep fry the rolls and serve with honey mustard dipping sauce.
Pastrami Noodle Casserole is a take on a classic tuna noodle casserole. Combine cooked egg noodles with shredded or chopped pastrami and a cheesy white cream or milk sauce. Top with bread crumbs and melted butter. Bake until the top is golden brown and the casserole is bubbling.
Bacon is just so good. But, some of us don't eat pork or don't want all the fat that comes with a classic fried bacon. I don't mind it, but my arteries might in time. Perhaps a healthier option is to take your smoked pastrami, slice it the thickness of bacon, and either sauté it or bake it until super crisp. I would be tempted to sauté it in bacon drippings, duck fat, or rendered beef fat – my bad. Use the crispy pastrami strips in a BLT sandwich, serve with scrambled eggs, or toss on top of a Cobb salad.