Octopuses, or octopi, are fascinating creatures. They are eight-armed mollusks or cephalopods that inhabit shallow salt-water environments. They come in many sizes, shapes, and colors. The legs or arms have distinctive suction cups that help them to grasp onto the ocean floor and vegetation.
Octopuses feed mainly upon crabs, lobsters, and plankton. This results in pretty tasty meat for us. They have long been considered a culinary delicacy in Mediterranean and East Asian cultures. Octopus is growing in popularity on menus in the States.
Handling fresh octopi is a bit of an art. You must be adept at preparing them for cooking by cleaning them carefully. I am not very confident in the skills required to remove the arms from the large head and to safely remove that ink sack that is a bit of a weapon. I buy my octopus already cleaned. Sometimes it is fresh in the fish display case and sometimes it is vacuum-sealed and refrigerated. You can find it frozen as well. I don't shy away from frozen octopus when cooking it in my smoker.
There are only two ways to cook octopus well, in my opinion. You can flash grill it until just warmed through on the interior and charred on the exterior. This method is delicious, but not an easy feat to do correctly. The meat can seize up quickly and you can end up with the octopus being overcooked and chewy.
The other way to cook octopus is low and slow. You can braise it until the meat is super tender and then let the fire of a grill kiss it to char the exterior. Alternatively, you can pressure cook the octopus and then grill it. The other way to cook octopus low and slow is to smoke it at a low temperature, just north of cold smoking it, for several hours. You will need to wet or dry brine this mollusk first to tenderize and flavor it.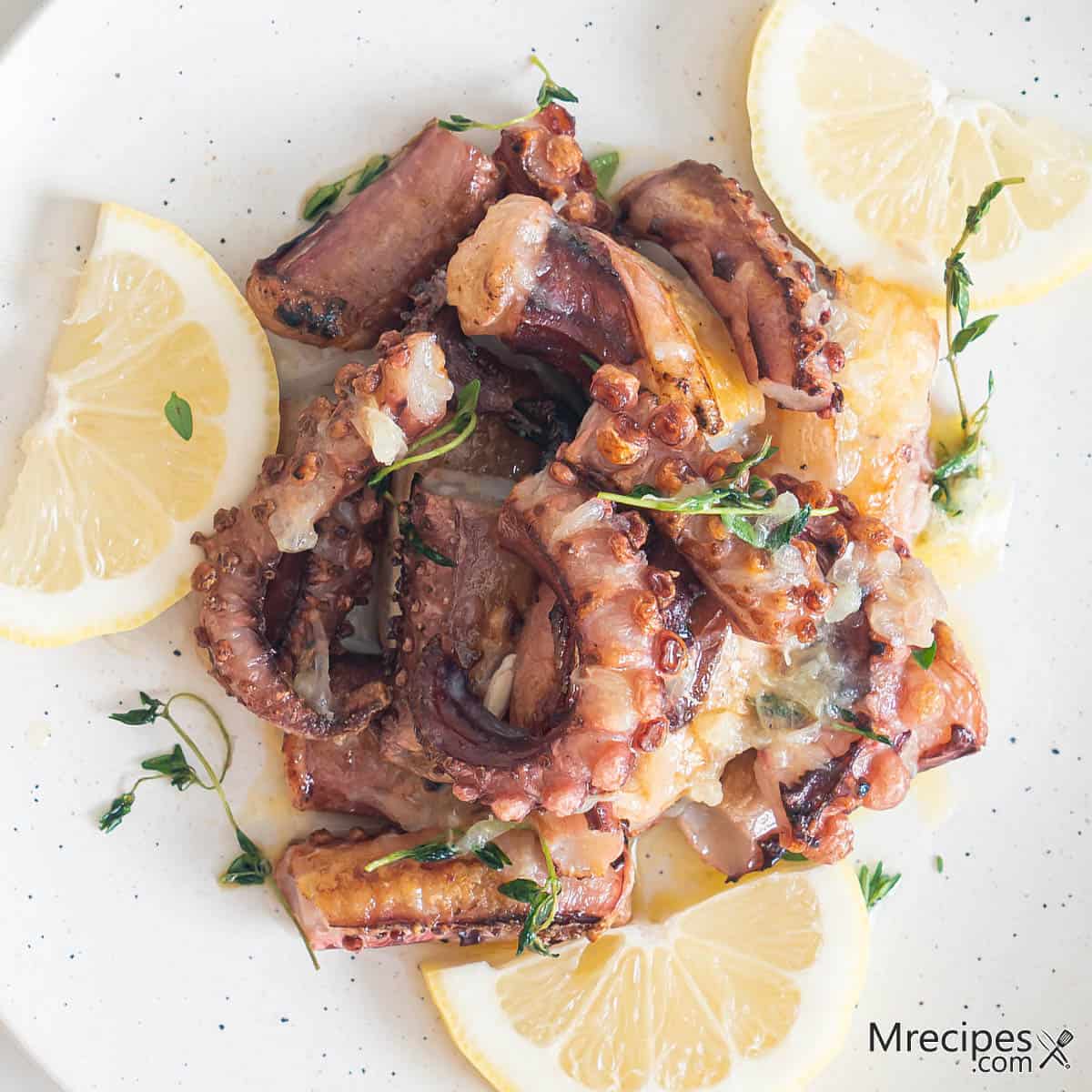 Tips for Smoking Octopus
As mentioned previously, you will want to brine the meat. I like to cut it into 6-ounce portions, then submerge the pieces in a bath of water with salt and sugar or maple syrup for paleo compliance. Allow this to sit overnight. Or, you can coat the legs with a dry rub that has salt, sugar, and spices and allow that to rest overnight or longer.
The next step is to encourage a pellicle to form. A pellicle is a surface coating of proteins on meat or fish. This allows smoke to better adhere to the surface of the meat. The pellicle forms by allowing the brined octopus to air dry until a tacky outer layer forms. It is recommended that you air-dry the meat in a cool space that is well-ventilated. A fan can help with this process.
An electric smoker works great for smoking octopus because you can control the temperature of the smoker. This particular recipe calls for starting the smoker at 120°F for 2 hours. You will raise the temperature to 150°F for 2 more hours. And then finish the smoking at 175°F.
Brined and Smoked Octopus (Gluten-Free, Paleo)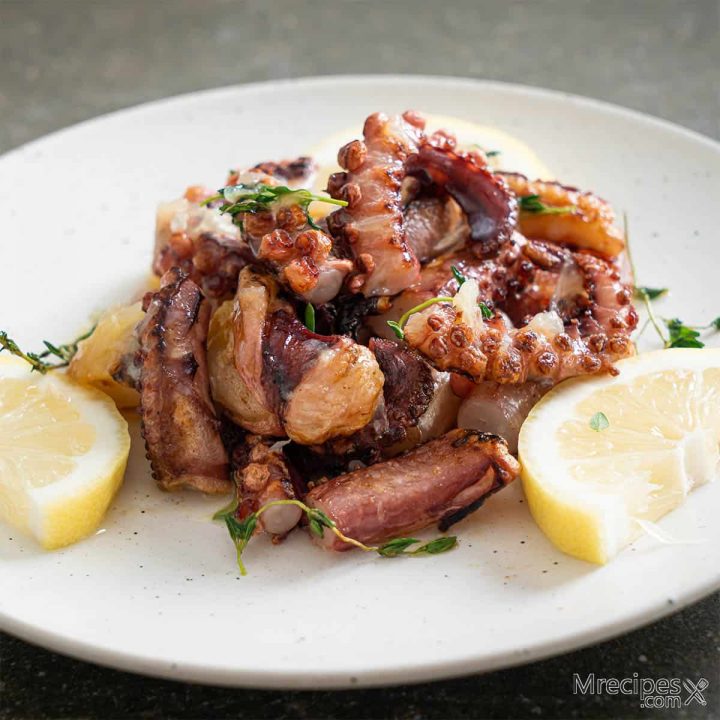 Brined and Smoked Octopus (Gluten-Free, Paleo)
Learn how to smoke perfect octopus so the meat is super tender.
Ingredients
5 pounds fresh octopus, cleaned
1 cup kosher salt
1-1/2 cups brown sugar or pure maple syrup for paleo
1 quart filtered water (or more to fully cover the octopus)
Fresh lemon wedges for serving
Water
Lemon slices
Maple or apple wood chips
Instructions
Using a sharp knife, slice the octopus into small 6 ounce portions.
In a large baking dish or mixing bowl, whisk together the salt, syrup, and water. Place the octopus pieces in the brine, or place the octopus and brine in a sealable plastic bag. Cover the container or seal the bag and place it in a baking dish in case it leaks. Put the octopus in the refrigerator and allow it to brine overnight.
Remove one or two racks from your smoker. Place them on a paper towel-lined countertop.
Remove the octopus from the brine and rinse it under cold water. Pat dry with paper towels. Place the octopus on the smoker racks. Make sure your kitchen is well ventilated or place a fan on low speed near the octopus. Allow the fish to sit for one to two hours to form a pellicle. You will want to flip the pieces over once so all surfaces become slightly tacky.
Load the smoker tray with wood chips. Fill the water bowl halfway with water and place a few lemon slices in the water. Preheat the smoker to 120°F.
Place the racks of octopus inside the smoker and low smoke the meat for 2 hours. Add wood chips and water as necessary.
Raise the smoker temperature to 150°F and continue to smoke for another 2 hours, again adding wood chips and water as needed.
Increase the temperature to 175°F and continue to cook until the internal temperature of the octopus reaches 140°F when checked with a digital meat thermometer.
Remove the octopus from the smoker and either serve immediately with fresh lemon wedges or allow to cool and vacuum seal to enjoy later.
Nutrition Information:
Yield:

8
Serving Size:

1
Amount Per Serving:
Calories:

678
Total Fat:

7g
Saturated Fat:

1g
Trans Fat:

0g
Unsaturated Fat:

3g
Cholesterol:

272mg
Sodium:

8900mg
Carbohydrates:

65g
Fiber:

1g
Sugar:

48g
Protein:

85g
What to Serve with Smoked Octopus?
If you are dining casually in the backyard, you might just serve the octopus pieces on skewers that everyone can easily grab and walk around with while enjoying.
To make a meal with smoked octopus being the centerpiece, you can serve other smoked and fresh dishes to compliment this delicacy. The most common pairing with octopus is roasted potatoes. Also excellent are Smoked Brussels Sprouts with this substantial meat. I am fond of wilted bitter greens with garlic, bacon, and lemon with octopus.
When it comes to beverages, I think you can pair almost anything with octopus. The smoky flavor can stand up to a dry red or white wine. My personal preference is a dry rosé with this dish. When in Greece, where octopus is popular, I was served a glass of chilled ouzo with my octopus, which I found to be surprisingly delicious. In Spain, you would likely be served red or white Rioja. You could have a complex beer or stout, or simply sparkling water with lemon.