Crab legs are definitely a treat for a celebratory meal or an awesome summer gathering on the patio. Crab legs are almost always pre-cooked when they are very fresh and flash frozen to preserve them before heading to market. If you live in Alaska and have access to fresh king crab, you are fortunate. If not, Alaskan king crab legs found in the freezer section of your market are really quite good. But, you will want to reheat them before serving. They are perfect for smoking in a Masterbuilt Smoker where you can infuse the flavor of smoke and seasonings into the crab meat.
Choosing and Purchasing Crab Legs
The best crab legs your money can buy are from king crabs. Most of our domestic king crabs are harvested from the Bering Sea off the coast of Alaska. These waters are rough and cold, requiring much fortitude to fish for them. The crabs are quite large with hard shells and sweet tasting meat.
The legs of king crabs are large enough to rest nicely on a smoker rack. There are different varieties of king crab available. The three basic types are the golden or brown king, the blue king, and the red king. The golden king crab is commonly smaller and more abundant. Blue king crabs are larger and often have giant right claws. All of these descriptions are for king crab that has been processed and cooked. Live king crabs carry different shades of colors.
King crab is measured by how many crab legs it takes to make 10 pounds. A package labeled 12 – 14 indicates that there is an average of 12 to 14 legs per 10 pounds. Claws are not counted when making this weight count. I am not sure why that is. Package sizes can range from 6 – 9 and up to 21 – 24, the latter being the smaller legs.
The Goodness of King Crab Legs
King crab is very lean. This is likely due to the environmental conditions of their natural habitat. The cold northern sea waters make for some robust and hardy sea life. One crab leg is approximately 5 ounces and only 130 calories. Most of those calories are protein, approximately 85 percent. King crab has no carbohydrates, so the remaining 15 percent of the calories are fat. Most of the fat content is polyunsaturated and includes plenty of heart healthy omega-3 fatty acids.
Crab is a good source of folate, vitamin A, vitamin B-12, and vitamin C. It is also a notable source of calcium, magnesium, and selenium. Consuming crab can benefit your red blood cell production, your metabolism, your bones, and your overall immune system function.
It should be noted that crab does contain a fair amount of sodium, some of which is released during the initial cooking process. If you are restricting sodium in your diet, reduce the amount of salt you use in the smoking recipe outlined here.
Butter Basted and Smoked King Crab Legs Recipe
For this recipe you will want to defrost your crab legs in the refrigerator overnight. Don't be tempted to defrost them in the microwave as this might compromise the texture of the meat by slightly cooking it.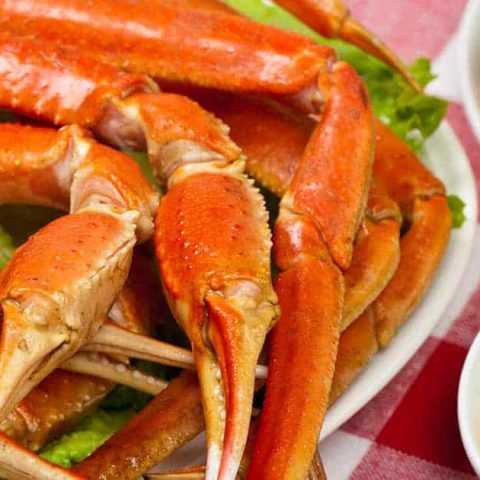 Butter Basted and Smoked King Crab Legs
Crab legs are definitely a treat for a celebratory meal or an awesome summer gathering on the patio. They are perfect for smoking in a Masterbuilt Smoker.
Ingredients
10 lbs of king crab legs
1 lb (4 sticks) butter (salt free if restricting sodium)
Juice from 1 whole large lemon
1/4 cup jarred or homemade crab boil seasoning (a recipe follows) or Old Bay seasoning
4 cloves of garlic, finely minced
For serving:
Melted butter
Lemon wedges
Cocktail sauce or aioli
Instructions
1. Defrost the crab legs in your refrigerator overnight.
2. Place mild wood chips, such as alder or maple, in the tray of your smoker. Fill the water bowl 1/2 way with water or beer. Preheat the smoker to 225°F with the vent open and the door closed.
3. In a medium pot over medium-high heat, put your butter, lemon juice, seasoning mix, and minced garlic. Stir everything together as the butter melts.
4. In a large pan, place the crab legs. To allow for smoke to better get to the meat, you can crack each leg in a couple of places, if you like. Pour the seasoned butter mixture over the legs to coat them evenly. Place the legs on the smoker racks and close the door or lid. Reserve any leftover butter for basting. Smoke the crab legs for 30 to 40 minutes brushing butter on the legs every 10 minutes. Be mindful that the crab is already cooked, so don't be tempted to overcook it as it could become dry and stringy.
5. Melt some more butter, cut some lemon wedges, and place some cocktail sauce or aioli in a bowl while the crab is smoking.
6. When the legs are hot and steamy, place them on a platter and serve immediately with butter, lemon wedges, and cocktail sauce or aioli. Have shell crackers, forks, and plenty of napkins available.
Nutrition Information:
Yield:

6
Serving Size:

1
Amount Per Serving:
Calories:

831
Total Fat:

16g
Saturated Fat:

3g
Trans Fat:

0g
Unsaturated Fat:

8g
Cholesterol:

429mg
Sodium:

8362mg
Carbohydrates:

12g
Fiber:

2g
Sugar:

7g
Protein:

151g
Crab Boil Seasoning Recipe
Ingredients:
1/4 cup sea salt (reduce if restricting sodium)
2-1/2 TBS whole mustard seeds
2-1/2 TBS whole peppercorns
2 TBS coriander seeds
1 TBS celery seeds
2 tsps whole allspice berries
2 tsps dill seeds
2 tsps dried oregano
2 tsps paprika
1 to 2 tsps red pepper flakes
4 bay leaves
Directions:
1. Place all the ingredients in a spice grinder or food processor. Grind into a fine powder. Store in a glass jar until ready to use.
What to Serve with Smoked Crab Legs
There are some classic side dishes that you can serve with smoked crab legs. While crab is a costly ingredient, it lends itself well to being eaten casually with your hands. Place a plastic tablecloth or butchers paper on a picnic table and load it up with the crab legs and these sides:
Smoked or oven roasted fingerling or red bliss potatoes
Smoked or boiled corn on the cob
Cheddar cheese drop biscuits (recipe follows)
Steamed and smoked artichokes
Grilled stone fruit halves for dessert
Take a look at our recipes for smoked vegetables and fruits for recipes and ideas for the sides. The recipes include smoked potatoes, smoked corn, and smoked artichokes. Make note of the timing so you can coordinate the cooking of the vegetables and the protein.
Easy Cheddar Biscuits Recipe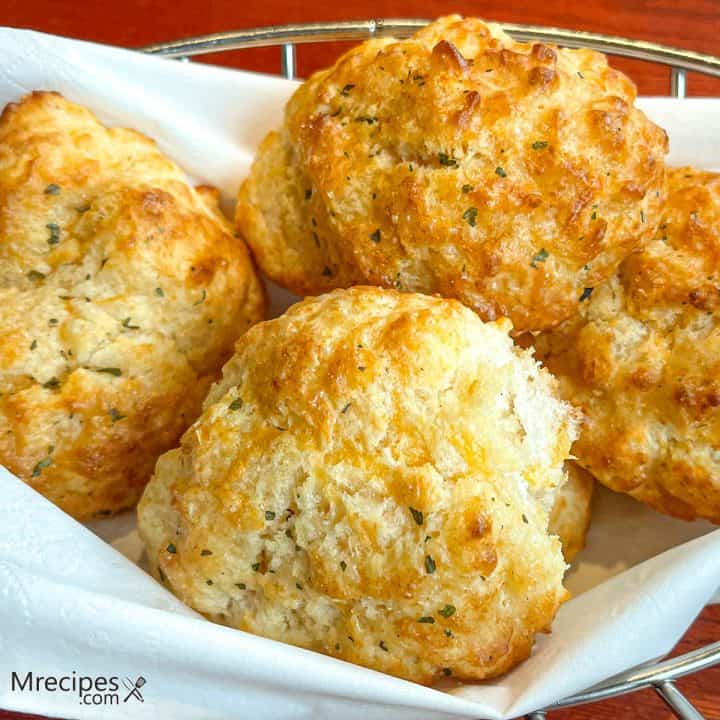 Easy Cheddar Biscuits
Learn how to bake delicious cheddar biscuits.
Ingredients
2 cups all purpose flour
2 tsps baking powder
1 tsp granulated sugar
1 tsp garlic powder
1/2 tsp sea salt
1 cup whole milk
1/2 cup + 2 TBS unsalted butter
1-1/2 cups grated cheddar cheese
Instructions
Preheat an oven to 425°F.
In a small sauce pan, melt 1/2 cup of the butter over low heat. In a large mixing bowl, combine the flour, baking powder, sugar, garlic powder, and salt. Make a well in the dry ingredients and add the milk. Then, add the butter to the milk. Stir gently to combine all ingredients until the mixture is just moist. Do not over mix or the dough will be too dense. Fold in the grated cheddar cheese.
Line a baking sheet with parchment paper or oil the sheet pan well. Drop approximately 1/4 cup of dough per biscuit onto the pan. Melt the remaining 2 tablespoons of butter and brush the tops of each biscuit with the butter.
Place the baking sheet on the middle rack of the preheated oven. Bake for approximately 12 minutes until golden brown. Serve while still hot.
Nutrition Information:
Yield:

6
Serving Size:

1
Amount Per Serving:
Calories:

368
Total Fat:

18g
Saturated Fat:

10g
Trans Fat:

0g
Unsaturated Fat:

6g
Cholesterol:

52mg
Sodium:

621mg
Carbohydrates:

36g
Fiber:

1g
Sugar:

3g
Protein:

14g