I rarely see fresh mackerel available at my market these days. The fishmonger told me he can get it but I would have to place an order and he would call me the day it comes in right off the boat. The reason for this is that mackerel is an oily fish that spoils quickly.
This could explain why you can mostly find mackerel that has been preserved by smoking it. The fillets are then stored in vacuum-sealed pouches, cans, or jars.
I happen to love mackerel. It has firm flesh and is a bit fishy. My grandmother used to take a cleaned mackerel, coat it lightly with all-purpose flour, season it with pepper, and then sauté it in a little bit of peanut oil in a hot cast-iron skillet. She would serve it simply with sliced tomatoes and steamed green beans. For me, it was delicious, not so much for my siblings because of the strong fish taste compared to sole or cod that we usually had.
If you are lucky enough to score some fresh mackerel, you may want to smoke as much of it as you can right away to preserve it. Before we get to the method of smoking mackerel, let's explore the health benefits of this fish.
Health Benefits of Mackerel
Mackerel is actually a term that is used to identify different species of fish that belong to the Scombridae family. Mackerel can be found in the Pacific and Atlantic Oceans as well as the Mediterranean Sea.
Mackerel is a slim fish with a torpedo-like shape. The skin of this fish is a silvery blue-green hue and often has black stripes. The flesh is a deep pinkish-red. Mackerel is known for its oily meat and fishy flavor.
This fish is considered to be very healthy because of the high omega 3 fatty acid content that is known to be beneficial for cardiovascular health. The healthy fat contained in Mackerel is believed to help those with diabetes. It also supports brain function and lubricates the joints and skin.
There are plenty of nutrients in mackerel, including vitamins and minerals. Here is the nutritional profile for 112 grams (one fillet) of mackerel:
Calories: 230
Carbohydrates: 0
Dietary Fiber: 0
Sugar: 0
Total Fat: 5.6 g
Protein: 20.8 g
Vitamin A: 187 IU
Vitamin D: 403 IU
Vitamin B-12: 60.4 mg
Calcium: 13.4 mg
Magnesium: 85.1 mg
Potassium: 352 mg
When shopping for mackerel, look for a firm fish with shiny skin and bright eyes. Be sure to ask when the fish was caught. It is best to consume or smoke mackerel within a day of it being caught.
Tips for Smoking Mackerel
You definitely want to clean the fish thoroughly by removing everything inside the cavity. Remove the heads and tails. You can smoke the whole cleaned bodies, but I prefer to break each fish down into 2 fillets so they can lie flat on the smoker rack so that more smoke will adhere to the flesh and skin.
You will need to season the fillets well with coarse salt on both sides. Allow the salted fish to rest in the dry brine for approximately 1-1/2 hours in your refrigerator. The salt helps to draw out excess blood and certain impurities. It also firms up the flesh by drawing out moisture. And, it adds flavor.
You can dry or wet smoke the fish. Wet smoking helps to keep the flesh somewhat moist. All you need for this is some water in the liquid bowl of your Masterbuilt Smoker. You can add some lemon slices to the water if you want some extra flavor.
The choice of wood chips is a matter of personal preference. I like oak, but you can use hickory for a smokier flavor.
Rinse the salt off of the filets under cold running water and pat them dry with paper towels. Preheat the smoker to 275°F. Place the mackerel fillets skin side down on the smoker rack and smoke for 2 hours or until the internal temperature reaches 160°F and the flesh flakes apart when checked with a fork. Remember to replenish the wood chips and water as needed.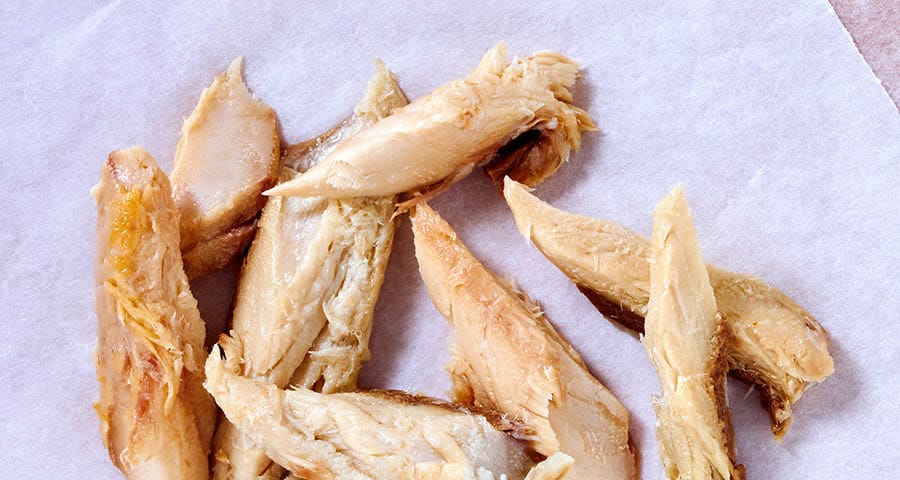 Smoked Mackerel Fillets (Gluten-free, Paleo, Keto)
Ingredients:
4 fresh, cleaned mackerel cut into 8 fillets
1/3 cup kosher or coarse sea salt
Mild wood chips
Water
4 lemon slices
Total time:3 hour 30 min – Prep time:1 hour 30 min – Smoke time:2 hour – Serves:8 people
Author: Nick
Directions:
1. If inclined, remove the pin bones from the mackerel fillets. Place them on a sheet pan and salt both sides completely. Cover with plastic wrap and place in the refrigerator for 1-1/2 hours.
2. Remove the fish from the refrigerator and rinse them under cold water. Remove the excess moisture by patting dry with clean paper towels. Remove a rack or two from the smoker. Place the fillets skin side down on the racks. Set them aside while you prepare the smoker.
3. Open the top vent of the smoker. Fill the water bowl halfway with water and add the lemon slices. Place wood chips in the side tray. Close the door and preheat the smoker at 275°F for at least 5 minutes.
4. Place the racks of fish inside the smoker. Cook for 2 hours or until the fish reaches an internal temperature of 160°F and the flesh flakes with a fork. Replenish the water and wood chips as needed at approximately 45 to 60 minutes.
5. Serve the smoked fish while warm or allow it to cool and serve it on toasted bread. See serving suggestions.
Serving Suggestions for Smoked Mackerel
Smoked mackerel is delicious right out of the smoker as a main course with salad and hot smoked macaroni and cheese.
There are several different ways to use and serve your smoked mackerel. Here are some ideas:
Smoked mackerel and Yukon gold potato salad
Bagels with cream cheese, chopped chives, and smoked mackerel
Brown rice kedgeree with smoked mackerel
Smoked mackerel pate with toasted baguette slices
Smoked mackerel salad and lettuce sandwiches
To store your smoked mackerel, place it in air-tight, sealed containers or zip-lock baggies. The mackerel should stay fresh for up to a week in the refrigerator. If you plan to keep it for a longer time, it is best when stored in vacuum-sealed bags. Vacuum sealed and unopened mackerel will keep in the refrigerator for up to a month and for several months when placed in the freezer.